WordPress SEO: Practical Guide to Rank High for Search Engines in 20 Steps [2023]
If you're using WordPress, chances are that you want a way to build and host a website that's easy, quick, and doesn't require you to be a programming genius. Well, there's a good reason why WordPress is the most popular CMS in the world, powering 39.5% of all websites.
Thanks to themes and plugins, it allows you to create feature-rich and beautiful-looking websites – no coding skills required.
However, while WordPress does a lot of the hard work for you, it doesn't do everything. WordPress is just a tool, and although its creators claim that the underlying code is SEO-friendly out-of-the-box, it's up to you to optimize your website so that it can easily be discovered by search engine users.
SEO is not just about flipping a few switches and pressing some buttons. It's a highly individual process that needs to be tailored to your website, niche, audience, and goals.
In this guide, we'll share practical steps that you can use to make sure your WordPress website is optimized for search engines like Google.
---
Why is WordPress SEO Important?
It's estimated that there are over 1.88 billion websites live on the internet today. That means, regardless of your niche, that you likely have hundreds, if not thousands, of competitors.
As a result, standing out of the crowd today and capturing the attention of your audience has never been more challenging.
As many as 68% of online experiences start with a search engine. However, nearly two-thirds of clicks go only to the first five SERP results.
Clearly, ranking highly on the Google search engine is key to outperforming your competitors and driving more organic traffic to your website.''
SEO, or search engine optimization, is a range of techniques that you can use to rank higher on search engines like Google. SEO is important for the success of every type of website, whether it's built from scratch or made using WordPress.
---
A Practical Guide to Setting up an SEO-friendly WordPress Website
SEO is not just about flipping a few switches and pressing some buttons. It's a highly individual process that needs to be tailored to your website, niche, and goals.
That's why we've broken down our WordPress SEO tips into three categories:
Technical WordPress SEO settings
On-page WordPress SEO
Advanced WordPress SEO
By simply going through this guide and applying every step from top to bottom, you'll create a highly optimized WordPress website for search engine rankings.
---
Technical WordPress SEO Settings
WordPress SEO is something that starts at the very foundation of your website. While on-page and off-page SEO usually steals the spotlight, there are certain things you have to do to make sure your website can be found by search engines in the first place. Not doing so can make all of your SEO efforts go to waste.
In this section, we'll show you how to prime your WordPress website for SEO from the ground up.
While it's considered "technical SEO", don't be alarmed! WordPress makes configuring your website for SEO incredibly straightforward through dashboard settings or plugins.
---
1. Install an SEO-friendly WordPress Theme
Of course, one of the key benefits of using WordPress is that you can use themes to quickly and easily have an attractive professional-looking website. However, with thousands of options, the quality of themes can vary greatly.
In general, you would want to pick a theme that:
Is lightweight (doesn't come with unnecessary plugins or content)
Mobile responsive
Uses clean and structured code
Has fast loading times
Is supported by most browsers
Is updated regularly
You can use tools like Google's Lighthouse, PageSpeed Insights, and web.dev as well as Pingdom or Gmetrix to test the performance and SEO of a theme.
Google also provides a Mobile-Friendly Test to check how well the theme would work on mobile devices.
---
2. Install and Use a Plugin for WordPress SEO
Another reason why so many gravitate to WordPress is for the huge number of plugins to add functionality and features to your website. Luckily, there are a number of plugins to help you boost the SEO of your website.
Yoast SEO is probably the most popular and widely considered to be the best WordPress plugin for SEO. It can help you with a variety of SEO-related tasks, such as creating sitemaps as well as optimizing content, headers, and metadata.
Plenty of its best features is also available for free, with advanced tools for paying users.
There are also a number of other plugins for specific tasks, such as fixing broken links, content writing, schema markup, etc.
However, having too many plugins isn't great for performance or SEO, so you will want to pick only one or two plugins for the job.
---
3. Get an SSL Certificate for Your Website
Enabling and using HTTPS (also known as HTTP over TLS) for your website is a baseline security requirement today. It allows for secure and encrypted communication that protects both you and your visitors.
However, since 2014, HTTPS also a used as a search ranking signal by Google. While its significance was initially small, Google has gradually increased its importance in line with their call for "HTTPS everywhere" on the web.
Luckily, it's easy to install an SSL certificate for your WordPress website today with most good hosting providers activating it automatically.
If not, you can use a plugin such as Really Simple SSL. You can also buy a premium SSL certificate from a provider like Comodo SSL and add it to your website.
---
4. Set Your Preferred Website Domain
You may have noticed that some websites can be accessed using either of these URL formats:
https://www.domain.com, or
https://domain.com
Most people think this is only a funny quirk that doesn't have any effect. However, Google considers these two versions of the same URL to be separate references to different pages.
If your website can be reached via both, it may mean that your search rank is being split between them. However, to maximize your SEO efforts, you want all your ranking juice to go to only one of them.
Luckily, this is easy to do in WordPress.
From your WordPress dashboard, go to Settings -> General.
You should see the following settings:

Set both your WordPress Address URL and Site Address URL to whichever version you prefer (with or without "www"). We prefer the non-www version because it looks cleaner.
For new websites, you can choose whichever version you prefer without any concerns. However, if it's for an existing site, you can use the following check to see which one is best:
Perform a Google search using the "www" version of the URL:

Now, perform another search with the non-www version:

Choose whichever one gets the most results (indicated above the search results)
---
5. What Good Is Optimizing Your SEO if It Can't Be Found by Search Engines?
WordPress developers or site owners sometimes use the "Discourage search engines from indexing this site" setting while they are building their website. This effectively means your website won't be indexed by search engines and won't get any rank.
However, you'll want to make sure that this option is disabled to allow search engines to index your website.
You can do this by just going to Settings -> Reading, and unchecking the Search Engine Visibility box:

---
6. Change Your Permalinks to Be SEO-friendly
As a search engine, Google likes websites that are structured in a way that's easy to understand.
It just so happens that WordPress gives you a few options to choose how URLs are structured by default.
By default, WordPress simply numbers pages using the following format: https://domain.com/?p=1. This doesn't give search engines much information to go on.
Instead, you'll want to use something more descriptive, such as basing the URL on the post name.
You can change this setting by going to Settings -> Permalinks, and checking the box below: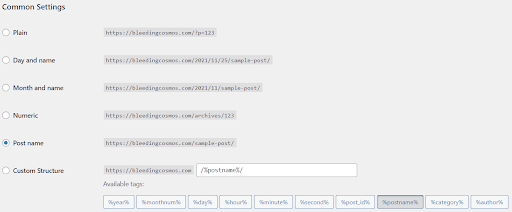 Importantly, you can still override this setting for specific posts/pages by changing their URLs.
---
7. Submit Your XML Sitemap and Verify Your Site With Google Search Console
An XML Sitemap encapsulates the structure of your entire website. When submitting your sitemap to Google, it gives the search engine a blueprint that makes it easier to crawl and index your website.
First, you need to verify your website with Google Search Console. This allows you to access search and traffic data for your website.
It's a relatively simple process, and you can find a step-by-step guide here. It basically involves getting an HTML code from Google and adding it to your website using a plugin like Yoast SEO.
The easiest way to generate a Sitemap for your WordPress website is to use the Yoast SEO plugin. With the plugin installed, just go to SEO -> General in the lefthand WordPress menu. Then, switch the the "Features" tab and make sure that the XML Sitemaps options is toggled to the "On" position: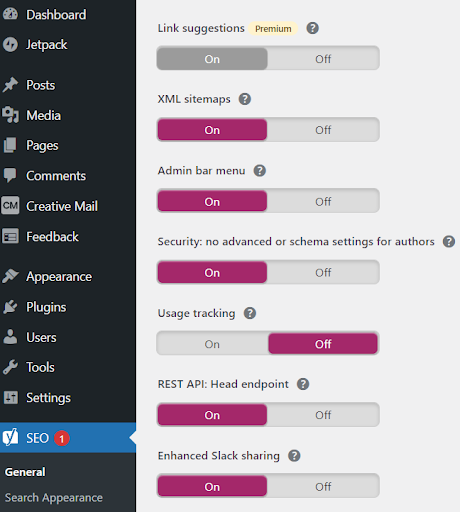 ---
On-page WordPress SEO
At its most fundamental level, a search engine compares keywords between what users search and the content on website pages. If they match, the content should be relevant to the user and Google will suggest it in its SERPs.
When it comes to the content on your WordPress website, there are many opportunities you can leverage to help catch the eye of search engines.
In this section, we'll point the most important ways you can optimize content for SEO and how you can maximize your content's value for search engine rankings.
---
1. Conduct Keyword Research
Before you can do anything to optimize your pages for search engines, you should know what keywords to target. These keywords, and their variations, should be used throughout your website pages and posts, where relevant.
There are numerous tools to help you conduct keyword research. Google Keyword Planner, Keywordtool.io, Wordstream, and KWFinder are just a few. Services like SEMrush, SurferSEO, and others also provide tools for keyword research.
You should also analyze what keywords your competitors use and how they rank for them.
---
2. Use an SEO Writing Assistant Plugin
Too strapped for time to master the arts of writing SEO-optimized content? Fair enough, it's easy to get lost between writing high-quality content while keeping track of other factors like keyword density and variations.
However, according to Google themselves, crafting high-quality content is the single most important ranking factor. They are also continually improving their capabilities to determine what is high-quality content, and what isn't.
Luckily, there are a number of tools that can help you craft highly optimized content every time. These writing assistants can make suggestions on how to format and use keywords throughout your content to make it the most appealing to search engines. It can also help improve the quality of your writing.
Yoast's premium plans come with a content quality checker. However, there are also dedicated plugins for this, such as SEMrush's SEO Writing Assistant as well as Surferseo for WordPress and Google Docs.
Other tools like Grammarly, Hemmingwayeditor, etc. can help you improve the quality of your writing but don't focus much on SEO specifically.
---
3. Create Custom URLs for Pages and Posts
We already talked you through how to set your permalinks for more descriptive and SEO-friendly URLs.
However, URLs based purely on the title of your pages and posts may not be perfect. For example, they could be too long or not clearly illustrate where you are in terms of the site structure.
Generally, search engines prefer short-but-sweet URLs. A good rule of thumb is to base to URL mostly on your main keyword for the page or post.
For example, instead of making the URL for this post:
https://mysite.com/a-practical-guide-to-wordpress-seo-20-tips-and-tricks-for-2021
Something like this would be better:
https://mysite.com/practical-guide-wordpress-seo
This makes it quicker and easier to read both for your visitors and search engines.
---
4. Create Optimized Title Tags & Meta Descriptions
When fighting for Google's attention, you want to give the search engine all the information it could possibly want to suggest your pages to users. This includes metadata like your title tag and meta description.
Not only are these analyzed by Google for ranking your pages, but they are also used to create your page listing in SERPs:

Your SERP listing is like an advertisement for your content and the first impression you will make on potential visitors. It's important to craft these to be descriptive as well as easy on the eye to improve CTRs (click-through rates).
Once again, tools like Yoast can help you optimize these by giving you a score as well as suggestions for you to improve them. However, you should also read a guide or two on how to create the best title tags and meta descriptions possible.
---
5. Optimize Your Headings for SEO
In WordPress, your page/post name doubles as both your URL and main heading, or H1.
Your H1 heading is extremely important as it's the first thing visitors look at to see whether the content is relevant to them. You want something that's catchy, informative, and uses your targeted keywords.
In HTML, there are 6 heading levels that go from H1 to H6. You want to properly structure your content by putting H2 headings (and their content) under H1 headings, H3 headings (and their content) under H2 headings, etc., etc.
This helps both users and search engines understand the contents and structure of your page. Usually, it's pretty effective to base your lower headings on keywords related to your main keyword.
It also helps visitors scan your page to quickly find the content they need most.
---
6. Use Internal & External Links
You don't want to attract visitors only to have them read one page and then move on to the next website.
By effectively including internal links, you can keep visitors on your website and expose them to more of your content. This is also good for your traffic metrics, such as a low bounce rate and high time-on-site (or, average session duration).
Adding links in WordPress, just type the display text for the link (called the "anchor text") in the text editor. Highlight it, click the chain icon, add the URL, and voila, you're done!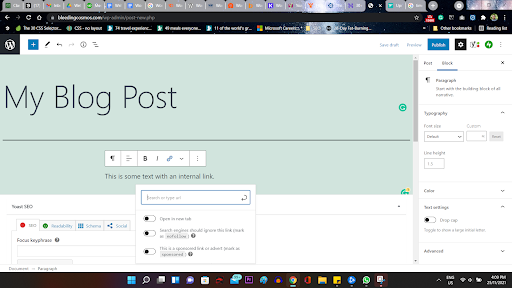 When it comes to external links, you should be pickier. External links don't matter as much for your website's SEO. However, if you link to dodgy websites that contain spam, misinformation, or are unsafe, it could hurt your search engine rankings.
When linking to other websites, you also pass the link juice which will boost their search engine rankings. Generally, you want more links from other websites to yours than from yours to other websites.
If you want to link to other websites without passing them link juice, you can turn them into "nofollow" links. This effectively tells search engines to ignore them when crawling your site.
When creating a link, you can add the "nofollow" attribute simply by enabling the toggle in the link contextual menu: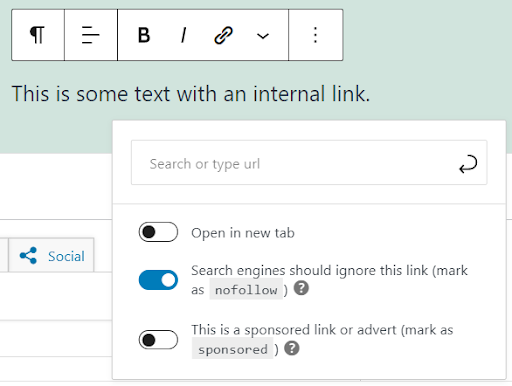 As a bonus tip, it's considered best practice to make external links open in a new tab. This will prevent users from "leaving" your website when they use an external link.
After you have created a link, you'll have the option to do this: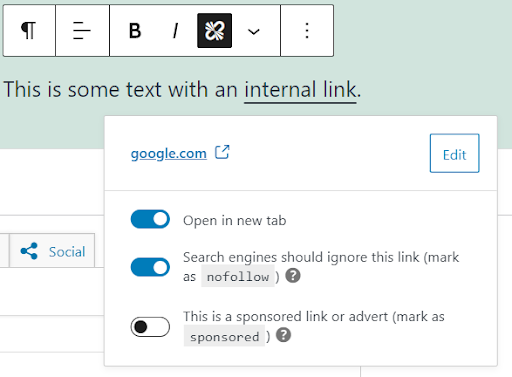 Finally, you'll also see the option to mark a link as a "sponsored" link. This was introduced because Google deems it important to distinguish between "paid-for" and "earned" links. If Google suspects that you are passing off sponsored links as organic, it could penalize your rankings.
---
7. Include Images and Video in Your Content
Ever hear the saying "a picture is worth a thousand words?"
Well, that's also true when it comes to search engine rankings. Media, like images and videos, make your content more engaging, informative, and attractive. That's why Google rewards websites that use them wisely throughout their content.
By using images and video, you also have the opportunity to rank for keywords by using them in the metadata, such as "alt" and "title" attributes. You'll see this option is available when adding an image to WordPress: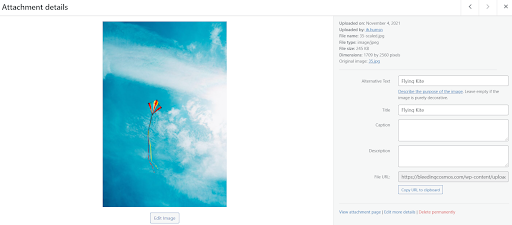 You should also optimize the image file names which will help when your site is indexed.
As a bonus, the Alternative Text will help describe the image contents if it fails to load or for visually impaired visitors that use screen readers. Make sure each image's alt text is as unique and descriptive as possible.
Search engine users will also have more opportunities to discover your website if the image shows up in a Google image search.
---
8. Leverage User-generated Content and Social Media
Google places a lot of emphasis on user engagement with your website. So, anything that shows users interacting with your website or each other is a good thing for your search engine rankings.
Furthermore, comments and other content created by users can also show up in search results to boost your organic traffic. The same goes for users sharing your content on social media, which can also lead to more incoming links for your website.
The most basic form of user-generated content in WordPress is comments on your pages and posts. By default, it's disabled for pages and enabled for pots. In most cases, you will want to keep it that way.
However, comments can also be dangerous. They can be used by keyboard warriors and trolls to create conflict and distract from your content. They can also be used to overwhelm your website with spam.
So, you should always use spam-blocking tools like Akismet as well as tools to help you moderate and filter content.
You can install plugins like Mashshare and Jetpack Social Sharing to enable social buttons on your pages or posts. However, also remember to encourage users to share your content whenever possible.
---
Advanced WordPress SEO
You may not know this, but website performance and uptime are key ranking factors for Google.
After all, what's the use that Google recommends to your website if it can't be reliably accessed by its users? Both online visitors and shoppers are also more likely to abandon a website that loads slowly. Remember, that Google wants to provide its users with the best experience possible, not just the most relevant content.
In this section, we'll mostly focus on how you can optimize other factors like performance and uptime to rank higher in search engines. However, we'll also discuss some of the most important SEO techniques that don't fall under technical or on-page SEO.
---
1. Choose a Top-class Hosting Provider
As the entity responsible for actually making your website available to the world, choosing a hosting provider is one of the most important decisions you can make.
Different hosts have different hosting infrastructures which directly impacts the performance and availability they can deliver. WordPress themselves recommends three specific hosting providers:
However, there are hundreds of WordPress hosting providers out there to choose from. You will want to do your research to establish whether the host you are considering has a decent track record.
You can turn to trusted expert reviewers for this as well as hosting forums and consumer reviews.
If they have a free trial period, sign up and test the performance and uptime of their services.
Some providers, like WPEngine and Kinsta, specialize in high-performance, high-availability WordPress hosting. However, they cost significantly more than your typical shared hosting provider. You can read this guide if you want to know more about the different hosting options.
---
2. Set Up Caching and a CDN for Your Website
Using a CDN (content delivery network) and caching are two of the best ways you can improve the performance of your website.
A CDN distributes your website files to servers all across the world. When a visitor visits your website, the CDN makes sure that they are served by the closest server to them. This dramatically increases page loading times for your website to audiences across the globe.
Cloudflare is one of the best and most popular free CDNs that's often included with good hosting providers.
Caching, on the other hand, stores a pre-generated version of your pages for quicker access by users. Without caching, users will need to redownload and dynamically recreate the pages from the database each time they visit them.
There are a number of WordPress caching plugins, such as W3 Total Cache that you can use to easily set this up.
---
3. Optimize Your Images and Video
According to data by HTTP Archive, images make up the largest portion of data present on most website pages. The more data there is to download, the slower a page loads for visitors.
Google has also confirmed that images are the most significant contributor to slow-loading pages. And, that optimizing them has the biggest potential for speeding up website loading times.
There are numerous plugins to help you optimize images, such as ShortPixel and Smush. You can also use external image CDNs like ImageEngine that provide WordPress plugins to make it easy to integrate with your WordPress website.
---
4. Use Link-building Services Like Uprankly to Boost SEO
If you want to boost the SEO of your website, you can't afford to look past link building. Link building is the process of getting external websites to link to yours organically, i.e. without paying for links.
These links are also called "backlinks" and play a major role in your SEO rankings. In fact, Google's Andrey Lipattsev has confirmed that links are one of the top three ranking factors along with content and RankBrain.
That's because Google sees an incoming link as an endorsement of your website, like word-of-mouth marketing. The higher the domain authority or ranking of websites that link to you, the more link juice they will pass to you which will result in a higher search ranking.
There are many ways you can build links:
Create high-quality "linkable" content
Guest blog on other websites or allow guest blogs on your website
Build relationships with influencers or niche authorities
Run blogger outreach campaigns
A good link-building strategy usually incorporates a number of different techniques. For many, it's simply too time-consuming and difficult to attempt on their own.
Services like Uprankly that specialize in link-building can be a great help in this regard. With years of experience, the people at Uprankly know how to identify top link-building prospects and conduct successful outreach campaigns.
In this way, you can focus on developing your brand and strategy while Uprankly secures high-value backlinks for your website.
---
5. Make Sure Your Website Is Secure
While it's harder to quantify exactly how it affects your rankings, that's also why website security is a ranking factor. Google wants to recommend trusted and safe websites to its users. On top of using HTTPS, this also means keeping your website malware and spam-free.
There are a number of great WordPress security plugins, such as Sucuri, Wordfence, and Jetpack. However, you should also ensure that you use a trustworthy and secure hosting provider that uses firewalls and DDoS protection.
More importantly, always use strong login credentials and enforce them on your users if they can create accounts and log in on your website.
---
Conclusion
As you can see, SEO is a hands-on discipline that involves a variety of skills and techniques.
No CMS can guarantee that it can give you a search engine optimized and high-ranking website out-of-the-box. However, WordPress is a very SEO-friendly CMS because it provides you with the settings, tools, and capabilities to fine-tune the SEO for your website.
And, for whatever WordPress can't do, you can find a plugin to help you.
If you're intimidated at first, don't worry! The key is to get started and see what results you get. Soon, you'll discover what works and what doesn't and become a WordPress SEO pro.
This practical guide will be an excellent resource to help you start your journey.