Top 6 WordPress On-page SEO Plugins to Help You Craft Search Engine-Friendly Content In 2023
Content is king. That's not just a saying, but a fact of how search engines, like Google, determine which content to show its users in SERPs.
While the metrics and algorithms change and evolve with time, the content that fills your pages and posts will remain a cornerstone of improving your search engine presence. Not to mention boosting CTRs and maintaining solid performance for metrics such as high time-on-page and low bounce rates.
While there are many tools to help you improve your content writing for on-page SEO, you probably prefer a solution baked-in to your WordPress website.
That's why we've curated this list of the top on-page WordPress SEO tools to boost your search engine rankings.
---
What is On-page SEO? Why Does it Matter?
SEO is often divided into three separate disciplines, on-page, off-page, and technical SEO.
Off-page SEO involves all the techniques you use to market your website externally, while technical SEO involves setting up your website in a way that it's easy for search engines to find, index, and rank.
As the name suggests, on-page SEO refers to everything you do to optimize for search engine rankings on your physical post and pages.
Most commonly, this involves the actual content that's visible on the page, such as your headings, text, and even media like images and video.
However, it also involves less visible elements, or metadata, relevant to the page/post, such as your page title, meta description, and more. This data is typically used to create a search engine listing for your page/post, like this:

Many consider on-page SEO to be the most important aspect of your overall SEO strategy for two reasons:
Keyword optimization: In the end, a search engine is a sophisticated matching algorithm that analyzes how relevant your content is to whatever a user is searching. It mainly does this by matching keywords, whether they are longtail, shortail, or LSI keywords.
Quality content: According to Google themselves, content is still, and will forever be, the #1 consideration when ranking your website pages. Relevancy aside, if your content is not high-quality, it won't be ranked as high as it could be. Google is continually refining how it determines the quality of content using a variety of metrics.
With that in mind, let's look at the best tools that help you optimize your WordPress website according to both these factors.
---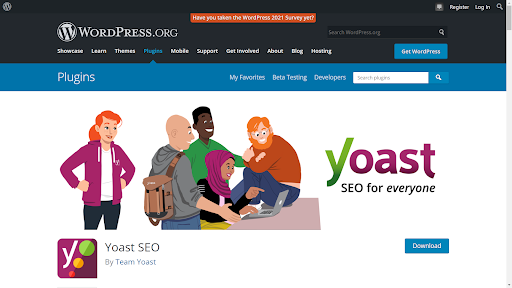 Yoast SEO is easily the most popular WordPress SEO plugin, so it's no surprise that it's the first entry on our list.
Yoast aims to be an all-in-one WordPress SEO tool, helping you with a variety of technical and on-page optimizations. The best part is, that there is a completely free version of the plugin available.
In terms of on-page SEO, the free version helps you optimize your Google SERP listing, SEO title, slug, and meta description: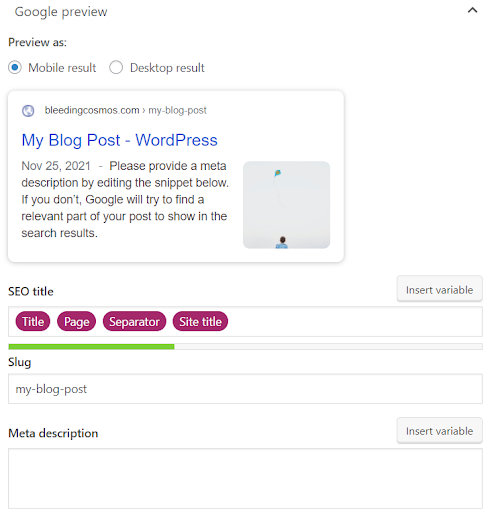 You can also give it a focus keyword and it will provide you with related keywords to rank for. Finally, Yoast SEO will analyze your content for both readabilities as well as SEO and provide you with suggestions for improvement.
Paid users (starting at $89/year) will have access to more advanced versions of these features as well as real-time content analysis.
---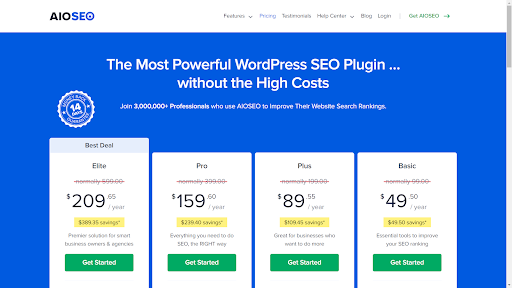 As the name suggests, AIOSEO is another all-in-one solution for your WordPress website's SEO used by over 3 million businesses.
As a premium SEO plugin, there is no free version, although the paid plans start at only $49/year.
AIOSEO comes jam-packed with technical and on-page SEO features, many of which are automated. For on-page SEO specifically, you can use the TruSEO on-page analysis with real-time suggestions for page content quality as well as similar meta data tools to Yoast.
Conveniently, it also offers Woocommerce-specific e-commerce SEO tools, an image SEO module, and a site SEO Health Scanner.
---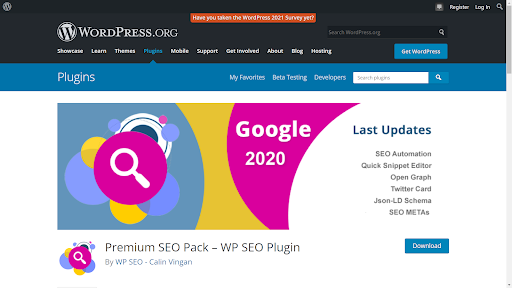 Premium SEO Pack offers both free and paid-for packages starting at $44. It's also aimed at higher-end users, which includes businesses with a number of employees.
Premium SEO Pack shines in terms of keyword research with in-depth tools to help track how your keywords, competitor strategies, and SERP rankings change with time. The pack also comes with amazing Google Analytics reports.
If your main goal is to optimize your keyword usage, this is the tool for you with a simple and clean interface. However, it will also analyze your on-page keyword usage for you to improve your content.
---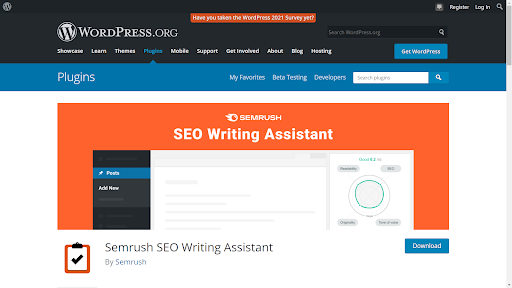 Many know SEMrush as an all-inclusive SEO marketing suite that helps customers with just about every aspect of their SEO strategy. However, it also offers a real-time Content Writing Assistant plugin specifically for WordPress users.
There are both free and premium accounts. Free accounts have access to many tools but limited keyword, search, and project budgets.
The SEMrush Content Writing Assistant is simply one of the most extensive tools of its kind. It helps you improve your SEO writing in terms of all of the following:
Writing quality and readability
Target keyword optimization
Tone of voice
And, even plagiarism and linking
If you primarily want to improve your content writing for SEO, there are few tools that can contend with SEMrush.
---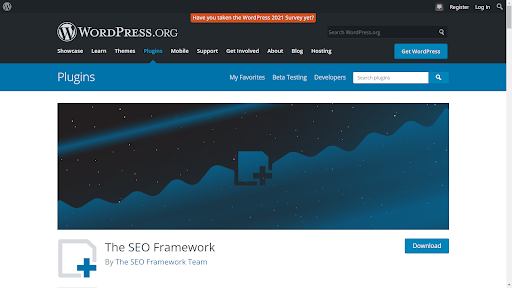 Interestingly, The SEO Framework's developers place a lot of emphasis on developing an SEO plugin that follows the white-hat guidelines and rules imposed by WordPress and search engines.
As a result, it's one of the SEO plugins with the cleanest and most lightweight code, meaning it won't impact the performance of your WordPress website as some other plugins do.
It's also a completely free plugin with all features included, and the developers promise to keep it that way. For on-page SEO, some of its key features include helping you optimize metadata as well as providing color-coded guidelines for improving your on-page content.
---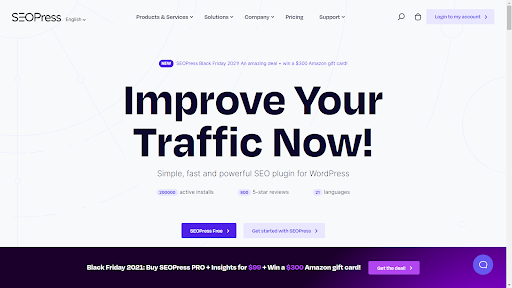 Yet another freemium WordPress on-page SEO plugin, SEOPress comes lat, but not least, on our list.
One of its more unique features is the ability to integrate with nearly any page/theme builder, allowing you to optimize your metadata from within the builder interface.
Like The SEO Framework, it's also easy to import/export your existing SEO data if you decide to switch plugins.
As even its content analysis tool comes with the free plan, you only need to upgrade to the Pro ($39/year) plan if you want to import data from .CSV files or want various advanced technical SEO features.
---
Conclusion
For many, writing content that's readable, high-quality, and also SEO-optimized can leave their heads spinning.
Luckily, you don't need to be a Nobel-prize winning writer or SEO genius to writing highly optimized content that search engines live. All you need is a decent on-page WordPress SEO plugin to help guide the way for you.
Aside from helping you craft exquisite content, these tools will also help you with your all-important keyword research and help you develop a better understanding of on-page SEO. The best part is, you never even have to leave your WordPress dashboard!