How to Craft Link-Worthy Data-Driven Content In 2023
If you're looking for new content ideas, creating data-driven content is a great way to go. It gives you the opportunity to craft something more valuable than a typical blog post or article for your readers.
With plenty of eye-catching and quotable facts or statistics, it's also fertile ground for creating content that's more linkable and shareable.
However, nothing good in life comes for free, and the same goes for building links to your content.
Before we go any further, you might be wondering why link-building is important for your data-driven content:
Backlinks are a top 3 ranking factor for Google.
Backlinks on external domains increase your impressions and reach.
Incoming links help you generate more organic traffic.
Backlinks send trust signals to users and establish you as an authority.
In short, being able to build links to your content helps you extract maximum value from it. Because you will probably put a lot of time and effort into crafting a data-driven piece, it's even more crucial that you squeeze every drop of search engine juice you can from it.
However, links aren't free. As a form of online word-of-mouth advertising, other bloggers and content creators tend to reserve their links for only the top content.
With that in mind, here are the top tips and guidelines to help you create "Link-worthy" content.
---
Source Never-Before-Seen Data
As a general rule, you always want your content to be unique as possible. Not only will that help you stand out from the crowd, but it will mean you have something different to offer than most of your competitors.
This is especially true when it comes to data-driven content where a lot of the pieces out there are recycled from other articles.
Writing a data-driven piece that quotes stats and figures from other articles is a quick and easy way to create new content. However, this is only really valuable if you use the skyscraper approach and collect more facts than the competition.
That being said, nothing can beat being able to bring brand new information to the table, whether it's the outcome, statistics, or facts from a unique study.
Furthermore, publishing your own findings gives way more credibility and respect to your content than those that merely rehash data from secondhand sources.
If you really don't have the resources or means to source your own data, at least try and get firsthand information directly from scientific publications or expert studies.
It's more likely that other content creators will need to link to or reference your content if no one else has it.
---
Pick a Hot Topic
As any SEO expert worth their salt will tell you that you always need to research the value of your topic before you start writing.
Why? Because both Google and internet users value content that's fresh, relevant, and current. This gives you the best chance of creating data-driven content that has the answers to questions people have right now.
You can get on your way to identifying a high-value topic simply by doing some keyword or competitor research. There are many tools for this, including Google Keyword Planner, SEMrush, aHREFS, and more.
Even if the initial topic you wanted to write about doesn't seem to get much traction, digging into longtail and related keywords can help you pivot your content in the right direction.
Remember that you always have to balance the competitiveness of a keyword with its search volume. If it has a very high volume but is extremely competitive, it will be hard to rank for it, depending on your existing SEO presence. Especially if you're new to the game, you should look for low-competition but niche topics to establish yourself.
This is especially important if you already have data so that you don't have to throw it away and start fresh if it doesn't seem that relevant. There is almost always a way to put a fresh spin on it to make it more in line with current trends.
---
Collect High-Value Data
In most cases, it's preferable that you only start collecting your data after you identified the ideal topic. This will give you the best angle and approach to get the most value out of your data collection and to tell the right story.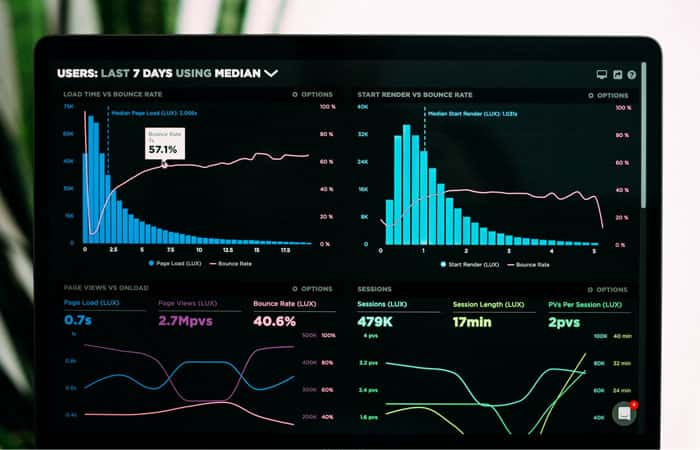 If you already have an established online presence with significant traffic, your own brand, activities, and audience can be a useful source of data.
Take Shutterstock's annual series of trends, such as the 2021 Creative Trends.
You'd be surprised at what rich data you can come by using existing tools like Google Trends as well as online survey platforms like SurveyMonkey or QuestionPro. If you don't feel like you have the necessary reach, you can also conduct an in-house case study of whatever field you're in or hit your favorite cafe for guerrilla testing.
As a final resort, you can do some digging on the Pew Research Center, Google Scholar, or even Wikipedia. Just always make sure to give credit where it's due and properly reference your sources. Not only is it the right thing to do, but it will give more credibility to your data.
Remember, that your aim is to bring data that's fresh and never-before-seen to make your content as linkable as possible.
---
Give Your Data a Unique Perspective
Often, data-driven content is created to bring across an overall idea, concept, or finding. However, if you only come to the exact same conclusion as everyone else, there aren't many reasons for someone to read your content over someone else's.
It's therefore important that you find a unique angle for your data with a new story to tell.
To be clear, you don't have to purposefully find data that contradicts what others have to say. Your data should always be factual and reflect reality.
However, it's possible you can reveal a new reason why something is a certain way, a unique perspective on how it affects a different demographic/industry/business or a previously unrealized consequence of things being the way they are.
If you perform a case study or something similar, don't just report back exactly what happened blow-by-blow. Try to come up with a story in terms of these questions:
Why you decide to do the case study? What problem it was meant to solve/understand? What were your findings? How did the findings corroborate or contradict your hypothesis/expected outcomes? What do these findings mean for the readers or others?
---
Visualize Your Data
Humans tend to respond better and engage more with visual information. Whether it's images, videos, animations, or interactivity, it will instantly level up the value of your content and make it easier for readers to digest.
With falling data costs and improving access to high-bandwidth internet connections, video consumption is skyrocketing. In terms of marketing, 88% of marketers are happy with the ROI of their video content while 54% of consumers want to see more of it.
Infographics are just as effective as marketing tools, plus you won't risk chasing away readers for whom bandwidth is a concern.
If you are willing to go the extra mile, the interactive A Day in the Life of Americans is a prime example of what can be achieved.
Furthermore, visual content is way more shareable and clickable, especially on social media.
Lastly, having visual content shows readers and other content creators that you are willing to go the extra mile. Fewer of your competitors will have their own unique visuals, which will help your content stand out.
---
Give Your Content the Boost it Needs
If link-building was as easy as writing a high-quality piece of data-driven content and waiting for the links to roll in, everyone would be ranking at the top of Google SERPs.
Unfortunately, this is simply not the case. Especially if you don't already have a massive following and high DA. To catch up, and get your content the attention it deserves, you'll have to run various email and blogger outreach campaigns, possibly separate ones for each piece of content you create.
This can be an extremely tedious and time-consuming process that will distract you from actually managing your brand and crafting superb data-driven content.
Instead, you should offload this responsibility to proven and experienced link-building professionals, like Uprankly. With years in the game, they know how to effectively run outreach campaigns that earn links from high-value targets.
---
Conclusion
So, as you can see, there's more to creating link-worthy data-driven content than throwing some facts together and hoping for the best. The good news is, that by following these steps, you'll be on your way to create unique, valuable, and extremely linkable content.
However, crafting linkable content is still somewhat of an art and no one can guarantee you success with a specific formula.
The best tip we can give you is to always analyze your data and findings and to try and come to interesting and novel conclusions. This is what will give you the best chance of attracting readers as well as incoming links.