How to Create a Link Building Strategy From Scratch
Do you want your website to outrank the competition in search results? One of the best ways to boost your website's reputation in search results is through link building. With a concrete link building strategy, you can start acquiring the right types of links on a regular basis. In this post, we'll teach you how to create a link building strategy from scratch.
Why You Need Links
According to Google Webmaster Guidelines, one way to help Google find your website is to, "Make sure that any sites that should know about your pages are aware your site is online."
"Any sites" you pursue a link from should be extremely relevant to yours. Examples of relevant sites include:
Local directories like Yelp for local business websites.
Professional directories like Healthgrades for medical practice websites.

Why You Need a Link Building Strategy
Based on a survey of over 3,000 marketers, CoSchedule found that the most successful marketers documented their strategy. They were 313% more likely to have success with executing their strategy.
Documenting your link building strategy in advance will force you to set smart goals. Smart goals are specific, measurable, attainable, relevant, and
timely. This post should give you all the information necessary to construct a link building strategy with smart goals from scratch.
Prerequisites for Link Building
Before we dive into specific link building tactics to add to your link building strategy, let's look at some things to consider as a part of your link building strategy.
Have You Built Links for Your Website in the Past? If Yes, How Did You Build Links Before?
Whether you did it yourself by emailing some people you knew or you purchased a link building service, it's important to review your current backlinks to ensure they consist of good links. We will define good links shortly
What Are Your Website's Current Search Metrics?
Do you know how many backlinks your website has today? Before you start a link building campaign, or any marketing campaign, you want to establish your starting point.
For example, as of today, let's say you have a Domain Authority score of 41 from Moz, with links from 1,600 domains. Rankings for your main keywords are in the top 20 search results, but not in the top 5. Your website receives a little over 3,000 visitors from search per month.
A year from now, after launching an effective link building campaign, you may have a higher Domain Authority score and more links. You could start seeing your rankings move consistently into the top 10 or even in the top 5. But most importantly, you will have noticed an increase in visitors from search, resulting in more goal conversions on your website.
This is how you will know your link building campaign has been successful. You should see a steady increase in visitors from search engines as well as other sources, like social media. But you won't know if you don't create a baseline at the start.
Building a Healthy Link Profile
To create an effective link building strategy, you need to understand the types of links you want versus the ones you don't want.
What Is a Good Link?
The best link you can get is a natural backlink. In a Google SEO Office Hours video, John Mueller, Search Advocate for Google, talks about acquiring natural and quality backlinks.
Specifically, John says that "…when it comes to links, Google's point of view is that these should be things not organized by you, that are not paid for by you, that are not created by you, but rather they should be naturally people who say, 'Well this is really cool. I really like that.'" And they say it with a link.
For example, let's say that you create an in-depth guide to investing. As you promote it on social media, a writer from a popular finance blog sees the guide, loves it, and links to it in their next blog post as a great resource for their readers. This is what Google would consider a natural link.
We will discuss this approach to link building later in the article. You'll learn now to build great content and promote that content with others who are likely to link to it.
What Is a Bad Link?
Now that we know what Google considers a good link, let's look at Google's list of activities to avoid while building links. The first is link schemes. A scheme is any link created with the intent of manipulating the ranking algorithm. Examples of bad link building include, but are not limited to, the following.
Paid links that are not marked as sponsored or nofollow.
Exchanging money, goods, or services for links.
Sending free for people to review with a link that is not marked as sponsored or nofollow.
Exchanging links with other websites solely for link building purposes. This includes creating partner or resource pages strictly for link exchanges.
Using any form of automation to acquire links.
Using low quality directories or bookmarking sites for links.
Links with keyword-rich anchor text in theme footers, widgets, press releases, guest posts, articles, etc.
None of the above activities are based on another webmaster naturally discovering your website and wanting to link to the content therein. If your website is caught participating in these activities, it could be months before your business recovers. Here's why.
The Consequences of Bad Links
When you engage in spammy link building practices, your website may incur a manual action from Google. Manual actions are reserved for webmasters who do not comply with Google Webmaster Guidelines for quality content and promotion.
A manual action will result in some or all of the pages on your website to lose their rankings in search results. In some cases, websites may be removed from the search index until you fix the issues associated to the manual action.
If you receive a manual action over links, you will have to show Google that you tried to have the links removed. It will take twice as long (if not longer) to complete this process as it will to invest in low quality links.
How can you tell the difference between a high and low quality link? The rule of thumb is to look at the placement of your link. If your link is surrounded by content that people will enjoy and find valuable, then you have potential for a high quality link.
On the other hand, if your link is surrounded by content people wouldn't find useful, it's likely to be a low quality link. Websites with little to no traffic, poor content, and lots of external links are not the ones you want a link from under any circumstance.
Building a Link Building Strategy From Scratch
Now that you know the basics about good and bad links, and the consequences of the latter, let's start building your link building strategy from scratch.
Step 1 – Perform an SEO Audit of Your Website
For the best results, you will want to make sure your website's on-page and technical SEO is optimized before you start link building. An SEO audit is the first step – it is the process in which you, at minimum, will review the following.
Keywords you are targeting for your top pages. If it's been awhile since you reviewed your keywords, it's time to do so as they will help you build links (but not as anchor text).
PageSpeed Insights for your top pages. This will reveal performance issues, including Core Web Vitals, which may affect your rankings in mobile-first search results.
The SEO title tags, meta descriptions, and URLs of your pages. Each should contain your target keyword.
Current metrics for your top pages, including number of incoming links, number of linking domains, and keyword rankings.
Tools like Google Analytics and Google Search Console are properly installed and collecting data.
Site audit tools from Semrush and Ahrefs allow you to simplify the process of running the audit. Semrush, for example, will collect information from your top pages like site speed, core web vitals, markup, crawlability, and overall site health in search.
It will also make suggestions on ways to improve technical and on-page SEO, as well as tell you which pages are missing important SEO tags (titles, descriptions, image ALTs, etc.).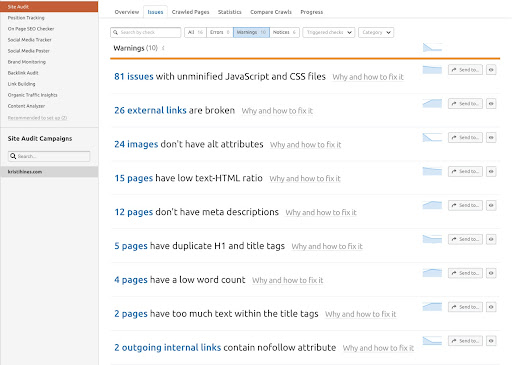 Step 2 – Research the Competition
Competitor research has the potential to reveal many different types of link opportunities. Depending on your industry and business, you may notice that competitors have a variety of different types of links, such as professional directories and content links. Other competitors may only use one link building tactic, such as guest posting, to acquire links.
The goal to this portion of your link building strategy is to find specific link opportunities that you can receive with your competitors. For example, you may find sites that link to two or three competitors as a part of a comparison or resource post. That may be an opportunity you can use to get a link for yourself.
One quick way to research your competitors for free is to search Google for link:competitor.com, which should reveal some of the best links acquired by your competitors according to Google's search index. You can also utilize backlink research tools from Moz, Semrush, Ahrefs, and similar SEO platforms to get detailed reports about your competitor's best backlinks.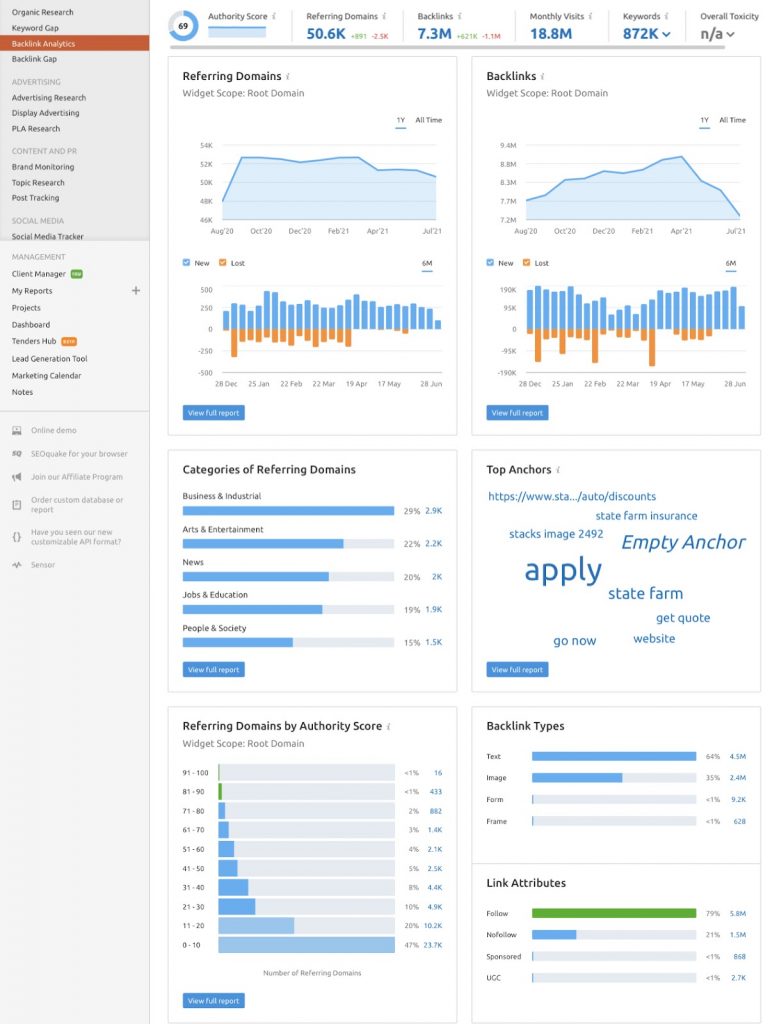 These reports should allow you to filter down to the best links your competitors have received. It should also let you see what pages on your competitors' website are receiving the most links. Those pages may contain a valuable resource created to attract links. We'll discuss how to build a link worthy resource in the next section.
Step 3 – Link Building Tactics
In this section, we'll outline some specific tactics we can use to acquire links.
Build a Useful Resource
One of the challenges in link building is getting links to a sales page for a product or a service. That is why you should consider building a useful resource online. Examples of useful resources are a mortgage calculator or an ebook on how to buy your first home from a financial institution's website.
The best way to get inspired to create a useful resource is to review the best resources offered by your competitors. You may find that acquiring links is as simple as creating a beautiful ebook. Or you may find the most useful resource your competitors have in common is an app or tool, something which would require a larger investment to build.
Promote Your Resource
To generate links, you have to embark upon an extensive promotion process. Ideally, you will have found several potential link opportunities that link to content like you just built.
The key when reaching out to promote content is to not ask for a link. You don't want your email to sound like a generic link request. Rather, you want to contact other webmasters and authors to suggest your content as something their readers would like.
From there, it should be up to the webmaster or author of the site content whether they give you a link because they like what you sent. Much like the natural links described in the Google SEO hour near the beginning of the post.
Contribute Content to Publications in Your Niche
Another way to get your business on another website is to contribute content. While mass guest posting and article marketing is frowned upon by Google, quality content submitted to quality publications is different.
What you want to do is write high quality content like you would for your own website, but for bigger sites in your industry. Sites like Search Engine Land for marketers or Fine Gardening for gardeners. These should be publications that not only receive more traffic than your website, but also publications that rank on the first page of Google search results for keywords similar to yours.
Become a Source of Information

A faster way to get in front of new audiences is through services like Help a Reporter Out. Sign up for daily emails consolidating requests from reporters for quotes in newspaper, magazine, and blog articles.
In many cases, you will answer a question in a few sentences or a few paragraphs as required by the journalist. In exchange for your thoughts, you may receive a link back to the website of your choice.
Find Mentions of Your Business
An important tactic in link building and reputation management is monitoring mentions of your business. You are looking for three things in particular.
Positive mentions of your business where you can thank the fan/customer.
Negative mentions of your business where you need to leave your side of the story, such as on a local review network like Yelp.
Positive or neutral mentions of your business that are not linked to your website. In most cases, you can email the webmaster, editor, or content author to thank them for the mention and request a link added to your business name in the content.
After your first thorough Google search for existing mentions of your business, you can set up Google Alerts. This Google service will email you each time it indexes content with your business name or another keyword phrase in it.
Connect With Webmasters
When you find good link opportunities, it's important to connect with webmasters the right way. Most have seen their share of poorly written link requests. Stand out by showing webmasters you like their content and have an addition to it that their readers will find useful.
Your goal is to sell the link you want as a benefit to the webmaster and their content. If they have a web page of high-quality resources, tell them why your website needs to be included. What does your website and your business have to offer that is unique from competitors already listed?
Step 4 – Monitor Your Progress
As you continue to acquire links, take some time to review your progress using Google Analytics. You will want to see that your traffic from search engines is steadily increasing. Ultimately, that is the main goal of link building – to improve your rankings and generate more search engine traffic.
In addition, you can use tools like Monitor Backlinks. It will alert you to new links you've gained, links you've lost, and new links gained by your competitors. You can use the latter feature as a source of ongoing new link building opportunities.
The Cost of Link Building
How much will your link building campaign cost? Ultimately, it depends on a few factors. First, will you have someone in-house handling your SEO or will you outsource?
The average salary of an in-house SEO manager is $91,563 annually, based on figures from Payscale. A study by Ahrefs found that the cost of link building comes out to $352.92 per link if you buy from sites that sell them (which is a frowned upon tactic according to Google).

Moz, on the other hand, found that links vary in cost based on type. Links from a PR campaign can cost as much as $1,000 per link, while links from an email outreach campaign can cost from $100 to $500 each, based on quality.
With the cost of links ranging from $100 to $1,000 a piece, it's important to invest your marketing budget into the option most likely to generate results. Many companies choose to outsource SEO and link building because they know a link building agency has the SEO experience and the connections to acquire the best links faster.
How do you decide between hiring and outsourcing your link building strategy? Depending on the size of your campaign and budget, the better option may be to outsource. When considering an in-house SEO, you have to budget for the following:
Their salary (over $95k) and benefits,
SEO marketing tools ($99 – $999 per month),
Rapid content asset creation ($99 – $999 per piece),
Actual budget for buying links ($100 – $1,000 per link), and
Continuing education to acquire new, effective link building tactics.
When considering a link building agency, you only have to budget for a set number of links or an ongoing monthly contract. The agency will handle the tools, content, link costs, and continued education.
In Conclusion
In addition to the agency's experience with all types of link building across multiple industries for years, it makes sense for most companies to rely on an agency for their link building campaign. If you're ready to get better rankings in search results, let us help you build natural links with our premium link building service.