Is SEO Dead? Expert Round-Up Reveals the Truth
Wondering whether SEO is dead or alive is a question that has been asked in the digital marketing world for years.
Some experts believe that SEO has lost its relevance and is no longer an effective strategy to drive traffic to websites. However, others argue that SEO is still a crucial component of any successful digital marketing campaign.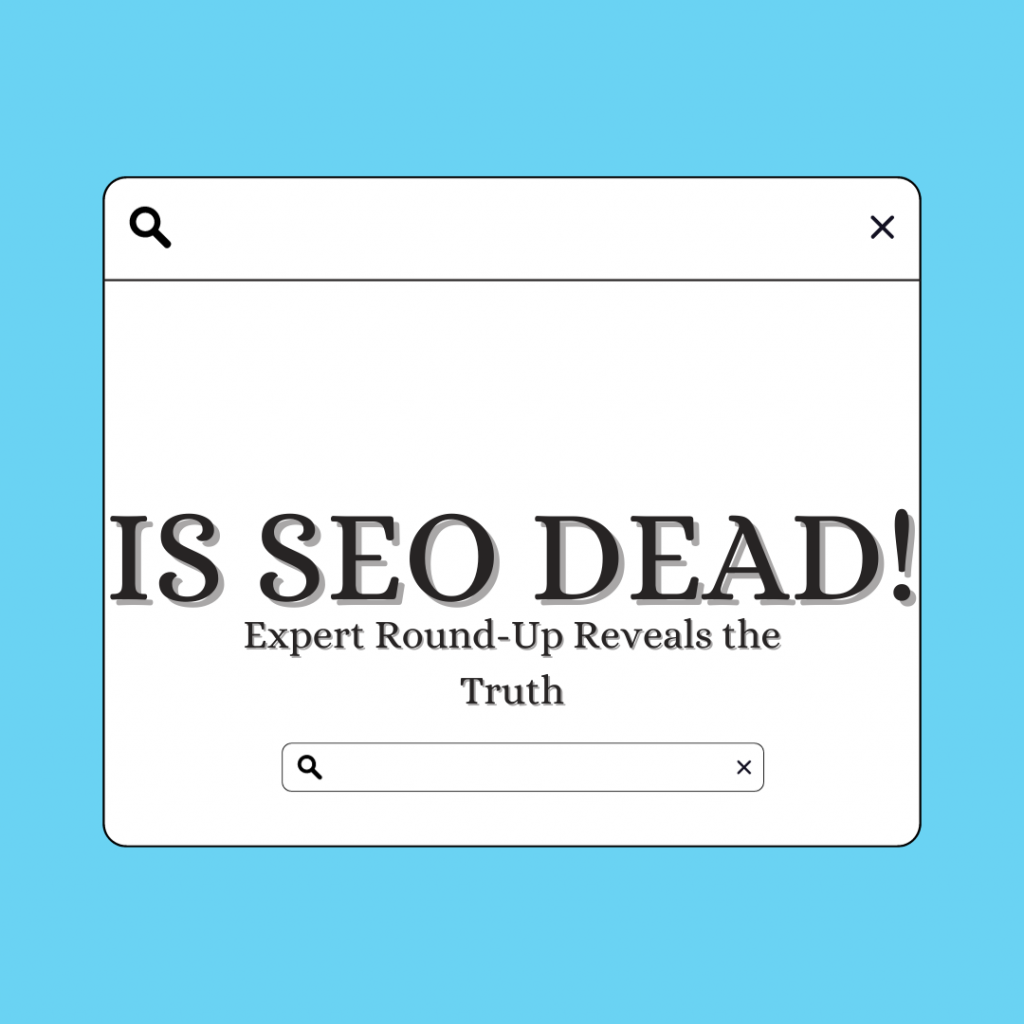 To help answer this question, we reached out to a group of SEO experts to get their take on the current state of SEO.
What we asked were these:
In this expert round-up post, we'll share their insights and opinions on whether SEO is dead or alive and what strategies they recommend to improve your website's search engine rankings.
---
SEO is not dying and is still very much a viable organic marketing strategy for companies big and small. At the core of SEO is the customer.
Customers will continue to use Google to search for knowledge, research, purchases, and brands in the coming 5+ years. Google will continue to want to provide those customers with the best possible content and answers to the search queries they are placing.
The companies that create the highest quality content and match the customer's search intent the closest will continue to rank at the top of Google and drive impressions and visitors to their websites.
While SEO may undergo changes with regard to developing AI technology, I predict that it will merely change the SEO landscape and not totally destroy it.
As an SEO who has been in the space for 10+ years, I've seen the question "Is SEO dead?" come up many times over the years. This is another example of the SEO world evolving but not dying.
I don't know where the "SEO is dead" meme originated, but it's generally something I have ignored in the past. However, I think that the SEO that's been around for the last 5 years or so (let's call it post-PANDA SEO) is shifting to look a lot different as we enter this new age of AI-powered everything.
SEO isn't dying for certain industries. Right now, SEO, as we know it (or with a few adjustments), is still important for local businesses.
For complex informational topics or queries with a very clear experiential component, content designed for SEO is probably not going away any time soon. However, AI has made the "typical" SEO game very different.
For one, AI can now easily answer questions that we used to need articles for. And it's usually a better end-user experience—instead of scrolling through obnoxious advertisements, I can open ChatGPT and get a fully ad-free answer to my question.
I don't even have to look through an article to find it! AI is also raising the bar for what constitutes "bad" content.
Now, there's no reason to publish an article with shoddy grammar or inaccuracies; your AI chatbot can quickly look it over and make edits. So it's not all bad news for the world of search.
Websites must provide something worthwhile in addition to their content to compel users to visit them, especially if chatbots can easily replace those pages.
Now more than ever, I'm being much more cautious about what I recommend to clients who come to me for SEO.
If your business doesn't benefit from SEO, that's okay! It's better to invest in areas that will actually improve your bottom line, and depending on your industry and offerings, it might just not be organic search results anymore.
Is SEO dead? It's a hot topic, and it's easy to see why, with constant algorithm changes and the rise of other digital marketing strategies.
Get real. SEO isn't going anywhere. It's evolving, just like everything else. The core principles of providing valuable content and a great user experience still apply.
For most businesses, SEO still needs to be a foundational part of their marketing strategy.
That said, it's not 2010 anymore. The days of keyword stuffing and shady backlinking strategies are long gone. Google's algorithms have become incredibly sophisticated, focusing more on user intent, content quality, and overall experience.
So, if you're still doing SEO like your dad did, then yeah, SEO is dead to you! But businesses willing to embrace change and innovate have continued to see great returns from SEO.
What about emerging trends? Voice search, mobile optimization, and local SEO have been growing in importance for years. If you're not optimizing for them, you're missing out.
Are AI and LLMs going to change things? Definitely. But that doesn't mean SEO is dying; it means it's diversifying. Smart SEO practitioners view these changes as opportunities rather than threats.
SEO also plays well with other digital marketing strategies. Content marketing efforts can benefit from SEO, and so can your social media presence. They're all interconnected.
So, if you're only focusing on one channel for visibility, you're putting all your eggs in one basket, and that's never a good strategy.
SEO is far from dead; it's more nuanced, more integrated, and, honestly, more exciting than ever. So, it's not about whether SEO is dying, but whether you're evolving. For visibility, traffic, and conversions, SEO remains one of the smartest investments a business can make.
Ignore doom-and-gloom predictions. SEO is here to stay as a crucial strategy for the digital age.
Is SEO dead or still relevant?
From my professional perspective, SEO is not only alive but continues to be a cornerstone for online visibility and business growth.
The narrative that SEO is dying stems from the evolving complexities and continuous refinements in search algorithms, user behaviors, and technological advancements.
SEO today is not what it was five years ago. It has transcended beyond keywords and backlinks to a more holistic approach that encompasses user experience, content relevance, technical efficiency, and a myriad of other factors.
The integration of artificial intelligence, voice search, and mobile-first indexing, among others, are not the killers of SEO but rather its evolution.
Businesses, including law firms, that adapt to these changes and align their strategies with the dynamic SEO landscape continue to reap significant benefits.
Visibility on search engines, organic traffic, and credibility are assets that SEO affords, and they remain pivotal for business growth.
The Future of SEO:
The future of SEO is not in jeopardy; it's in evolution. Emerging trends like AI, machine learning, and the exponential growth of mobile and voice searches are not diminishing SEO's relevance but reshaping it.
Adaptability, continuous learning, and alignment with these trends are what will distinguish successful SEO strategies.
SEO will continue to be a vital strategy, especially for niche sectors like legal services where authority, credibility, and visibility are paramount.
The key is to adapt, innovate, and integrate SEO with a comprehensive digital marketing strategy to achieve holistic online growth.
The current state of SEO seems focused on inferring and providing information from the pages in the search index. Whereas before, it almost took the content word for word for things like featured snippets.
It's almost like it's thinking for itself. However, with that, sometimes come things that aren't true, and they will hallucinate or make things up. Specifically for the SGE.
As far as the future, I would not say "SEO is dead." They've been saying that since I started in 2011, and if you look back at charts for search volume yearly average, it has interest back to 2004. I can certainly see the top-of-the-funnel searches getting hammered with things like what is such and such, etc.
I'm optimistic that search engines will always exist as long as people want to find things on the internet, but I can certainly see the traffic sites get from them continuing to decline.
Let's start by addressing the assertion that SEO might be "dead." Over the years, this claim has surfaced numerous times, often in response to significant algorithmic changes or the emergence of new online trends.
However, it's essential to understand that SEO isn't just about manipulating search engine algorithms; it's about understanding user behavior and intent and providing the most relevant and high-quality content. As long as there are search engines and users seeking information, SEO will always have a place.
That said, the landscape of SEO is evolving, much like every other digital discipline. It's no longer just about keyword placement or backlink quantity.
Today's SEO incorporates user experience, mobile optimization, page speed, content quality, and even factors like Core Web Vitals introduced by Google. It has become more holistic, merging aspects of user experience and web development.
Emerging trends are indeed reshaping SEO's role. The rise of voice search, AI, and the growing importance of local SEO are examples of how the field continues to adapt.
But instead of rendering SEO obsolete, these developments only underscore its importance. They demand that we, as SEO professionals, stay nimble and adaptive, continually updating our strategies to meet the shifting landscape.
In essence, SEO is not just about achieving top rankings anymore; it's about delivering a comprehensive online experience that meets users' needs. This broader perspective makes SEO more crucial than ever for online visibility and growth.
The core principles of understanding user intent, providing valuable content, and ensuring an optimal user experience remain steadfast.
While SEO's methods and tactics might evolve with emerging trends, its core objective—connecting users with the information they seek—remains unchanged.
Far from being "dead," SEO continues to be a vital strategy, albeit one that demands a more holistic and adaptive approach in today's ever-changing digital environment.
There are developments on various levels when it comes to the major search engines. On the one hand, we observe a growing influence of brand-related ranking factors, such as E-E-A-T, which SEO measures can only influence to a limited extent. On the other hand, it changes.
Generative AI and large language models (LLMs) change the way search engines create answers. LLMs could take the place of the conventional search index. It is questionable whether LLMs can proactively influence themselves through measures.
I believe that the influence of classic SEO over the last 20 years is decreasing, and SEO has to partly reinvent itself and find a new role.
An interface to corporate departments such as marketing, branding, and PR for consulting with regard to increasing brand visibility from a technical or algorithmic perspective is necessary. I came up with the term digital authority management for this new role.
In summary, I believe that the relevance of optimizing content is not enough and that we need to rethink the previous focus and responsibilities in SEO in order to continue to play a relevant role in the success of companies.
SEO is far from dead; in fact, it's thriving. For most of our clients, SEO continues to deliver the highest return on investment (ROI). However, there's a noticeable trend in the industry: many are resorting to low-quality tactics because they're simpler to implement.
While these tactics might yield short-term results, they often fall short of translating into meaningful, long-term relationships with new clients. In today's competitive digital landscape, merely checking off the basic SEO boxes isn't enough.
You need to be exceptional. To genuinely succeed, you have to be different, be better, and stand out from the noise. It's not about playing the game; it's about elevating it. People will never stop searching online for information, solutions, and inspiration.
The key lies in ensuring that when they do, they find you—and not just any version of you, but one that resonates with their needs and desires.
By targeting the right audiences with precision and authentic value, you position yourself not just as an option but as the go-to choice. Remember, SEO is still crucial.
But to truly capitalize on its potential, you need to go beyond the table stakes. Embrace innovation, champion quality, and always prioritize the needs of your target audience.
Is SEO dead?
Undeniably, SEO is still one of the best opportunities to grow your business. But the way we do SEO, with the rise of AI and ChatGPT, requires fast, quick action and testing because if you don't understand it, you'll get left behind.
SEO has never been easier; there are more tools and skilled SEOs out there to help you. But it all comes down to the systems you have in place.
If you can crack this, you'll have a competitive advantage that drives a constant stream of high-quality traffic for free, leading to higher profit margins.
People often talk about SEO as though it's some magic spell that can be cast and then it'll work forever more, but SEO is something that takes time and consistency. It's something that should be part of a strategy, not a stand-alone activity.
Yes, you can rectify a number of issues when you first start to look at your SEO, but once you've made any initial changes and improvements, it's something you should continually look at and improve on.
After all, Google is changing and updating constantly, so why would you think you could leave your website to stagnate?
I've not heard anyone say that SEO is dead or dying. If anything, more and more people are becoming aware of it. It's only taken 20 years!
SEO will continue to be a part of digital marketing, even as AI opens the floodgates, as people need support and understanding to develop a strategy to utilize these tools effectively.
SEO will simply adapt to the changing needs of the client and customer. SEO is the thing that ties PPC, social strategy, and content together.
Since users got ChatGPT in their hands on November 30, 2022, it has definitely become harder to predict user behavior. Fact: As consumers, we will always search.
The big question is how radically AI will change user behavior. Personally, I find myself gradually moving away from Google when searching, finding much more pleasure in the individualized results on ChatGPT.
Of course, I'm not your average user, but someone who has to be at the forefront of the revolution.
Usually, it takes +10 years to see the full outcome of a super trend like AI, so I have to stick to the numbers I see today. For all of the clients that we work with in Denmark and internationally, the conclusion is the same.
Organic traffic is the biggest digital channel when it comes to driving traffic. And it continues to increase. I don't see any real effects from AI in the short and medium term.
SEO is still an essential tool in a marketing strategy, ensuring that Google understands our clients' websites when it comes to content and authority. SEO is, as always, evolving, and SEOs need to continuously understand what moves the needle.
And surely, it's definitely not getting easier with the introduction of SGE, but maybe there were too many SEO experts out there in the first place, and we need to shake the tree a bit.😀
Not at all. As long as users are searching for something, there's a need for some search engines, and as long as the current search engines stay on top of AI trends, which they seem to have, users will always use them.
So, there will always be a need for search engine optimization. However, SEO will be more sophisticated, and some basic SEO practices, such as optimization meta tags, may become less relevant.
Our client data shows otherwise. Organic traffic is one of the best for all our clients, B2B or B2C, and our SEO efforts have a direct 1-to-1 impact.
However, SEO is becoming more strategic, meaning that SEOs must collaborate with marketing, sales, customer services, and product teams to ensure a more holistic and accurate approach to SEO.
For example, if you are trying to optimize for a SaaS company, you don't want to optimize for a keyword if your product doesn't have that feature or if that feature isn't very strong because search engines may consider customer feedback as a ranking factor.
Yes, as indicated earlier, our data shows organic is one of the best revenue-generating sources for all our clients, and our SEO efforts directly impact that.
Also, organic traffic helps other channels, so if you analyze marketing results from a multi-touch data-driven attribution (instead of last click), you'll notice how SEO assists other media in converting.
SEO is changing. But it has been changing ever since I can remember. There was a time when keyword stuffing was a hot approach—difficult to believe these days!
I do not think SEO will ever be dead. As long as there will be search engines and people will have a need to search, SEO is here to stay. We are seeing changes in how people search and interact with the served results; of course, Google keeps changing its algorithms.
I can promise you that the one constant thing is change.
SEO is an essential part of any good marketing strategy. Especially when you think of marketing efficiency, SEO must be in the mix.
SEO is bringing high-value customers with an amazing LTV on the lowest CPA. As well, although SEO is not traditionally thought of as a retention channel, it keeps bringing people back to the website, which results in increased deposits from this channel. SEO is the key to efficiency.
Naturally, there are new channels coming in, mainly social media such as TikTok. These influence how people search, how they interact with the results, etc.
These new trends can be very beneficial for Google searches. Example: If some campaign goes viral on TikTok, people start to search for the mentioned product, which increases search volume, resulting in increased SEO traffic to the product website.
I think this goes well with my point No. 1. SEO is changing.
Yes, we need to understand how the new generation likes their results to be served; maybe we need to learn to optimize to capture attention in our first tagline; maybe we need to use more videos; aka, we need to adapt to the ever-changing search trends to keep serving relevant results to the targeted audience.
To say SEO hasn't changed over the past 15 years I've been a practitioner would be wrong, but the fundamentals are still a necessity to implement, and the biggest issue I find in site audits is stopping a website's success.
Better content is probably the biggest change in tactics. As Google puts more weight on quality and "helpfulness", the better SEOs have adapted from a "more is more" to a "less is more" content strategy, focusing on complete user satisfaction in both information and experience.
SEO is not dying. It remains one of the best and most effective means to drive relevant traffic to websites.
SEO is here to stay. The way we approach SEO and the things we will need to consider, however, will continue to change. Technological advancements will be the main force behind these changes.
Algorithms continue to fine-tune the ability to assess the user experience of a website, so it'll be more and more important to create a simple, positive UX on your site.
With the increasing popularity of voice assistants and smart speakers, you'll need to ensure your SEO efforts focus on creating content written in the way your users would speak and that is in line with search intent. And, of course, AI will be something to watch.
Not only will AI make search engines smarter, but it will also create a lot of confusion and gray areas around how search engines view AI-created content.
It's a fun time for SEOs right now. Staying on top of trends and developing the ability to shift direction quickly are going to be so important to SEO success.
Considering the rapid advancements of AI, especially within digital marketing, I think SEO is one of the least affected in terms of the channel dying out or SEOs becoming obsolete.
People are still searching for solutions using search engines like Google, and when you consider the uncertainty of costs from other channels such as paid social or paid search, it's clear that SEO still has its place in providing sustainability and longevity when it comes to being found online.
As long as there is a medium for people to search for things online, SEO won't die.
I think we have to acknowledge that Google now has more options than ever to discern quality from 'writing content for SEO'. The rules haven't changed; they simply have more tools.
On the other hand, things are evolving at the front end. Google is transitioning from a search engine to an answering and entertainment machine. Where are the product lists?
Organic product listings, YouTube/TikTok shorts, and informative content have taken their place. This means that SEO is no longer confined to textual content on your website.
However, when we observe how SGE operates, our optimism diminishes. We should no longer expect the same high levels of traffic from Google as before.
This should force companies to reevaluate their approach: why are we creating content? For SEO? Or because we believe it's essential to our organic marketing strategy?
Creating content solely for SEO purposes may no longer suffice as a viable business strategy. In my opinion, we should shift from SEO to organic marketing, where the scope is broader than just SEO.
While helpful content and E-E-A-T are indeed SEO concepts, they are too big to be on the SEO plate. Being present in all organic channels with comprehensive and valuable content should be in the company's DNA.
When engaging in organic marketing, visibility in search results is a logical result of doing the right things, as organic marketing requires informative content and contributes to becoming an E-E-A-T.
I have been in the SEO industry for over a decade now. I believe that SEO (search engine optimization) is far from dying; it remains an indispensable strategy for online businesses and websites.
The debate about SEO's relevance often arises from misconceptions or misunderstandings about its nature. SEO has evolved significantly over the years, and its strategies and tactics have adapted to changes in search engine algorithms and user behavior.
One of the most significant shifts in SEO involves prioritizing the user experience. Search engines like Google have become increasingly proficient at understanding user intent, which has led to a more user-focused approach.
Today's successful SEO strategies revolve around creating content that genuinely benefits and engages users. High-quality content is the core of SEO success. Search engines reward websites that produce valuable, informative, and engaging content.
This trend is likely to continue in the future. Again, while user-focused content is essential, technical SEO is still vital. This includes optimizing site speed, improving website structure, and ensuring proper indexing by search engines.
SEO will likely continue to evolve in response to changes in technology and user behavior. Search engines are increasingly using AI and machine learning to understand and rank content. SEO professionals will need to understand and leverage these technologies to stay competitive.
Google places a high emphasis on E-A-T (expertise, authority, and trustworthiness) when evaluating websites. Establishing expertise and trustworthiness in your niche will remain important.
As voice search and featured snippets gain prominence, SEO strategies need to adapt to accommodate these trends.
From my perspective, SEO is not fading away; it's evolving. As long as people rely on search engines to discover information, products, and services, SEO will remain a pivotal strategy for online visibility and growth.
SEO is more alive than ever. The global SEO market is set to grow to $200 billion by 2030. There are more jobs available in SEO than ever before, and companies of all sizes are hungry for them.
The only difference between the SEO of the past and the SEO of the future is that it now encompasses so much more of the marketing mix. From technical to content to digital PR and design, competing requires a broad set of skills and many more resources.
Here at Position Digital, many of our clients rely on SEO as their most successful marketing channel and continuously invest in keeping their content at the top of the rankings.
Even for new businesses starting out in SEO, competing is absolutely possible. The most important ingredients for success are patience, persistence, and perseverance!
SEO will never be dead.
It's easy to get wrapped up in things when you work at the cutting edge of SEO, but for the vast majority of internet users (i.e., consumers—both B2C and B2B), online search will continue to be the way people self-educate and research things, even if they do diversify their customer journey across multiple channels.
As much as AI and SGE may impact the way information is presented to them, there will still be a need for websites to be "optimized" in order for the content within them to surface.
Exactly what that optimization entails will continue to evolve in line with search engine algorithms and the way people search.
No, SEO isn't dying; as for it being less effective, it depends on what you mean. SEO is changing, but it's always changed. The only difference is that it's taking more effort to rank now than it was 10 years ago, 5 years ago, and even 1 year ago.
So it's not becoming less effective, but it's taking more work to compete, so it can absolutely feel like you're getting less return for your effort.
I do believe that SEO will have its place for a long period of time, and I can absolutely see it changing. AI is the big, scary monster in the cupboard, but it's not going to replace all SEOs anytime soon.
I believe the barrier to entry is just higher than it was previously.
The cry 'SEO is dying' is usually heard during the rumblings of algorithm updates or following the release of new AI technology. In reality, these changes represent an evolution in SEO, not the end of it, and they do not substantially impact the effectiveness of SEO within marketing strategy.
Google is continually striving to better emulate end-user expectations with its search algorithms, which has led to the evolution of SEO and the death of some long-held SEO tactics.
Take link building, for example.
Over the last ten years, the focus of link-building SEO activity has evolved from obsession with link numbers to a more considered approach, targeting high-quality, relevant sites.
And just as the release of the Penguin and Panda updates did not make SEO obsolete, the Helpful Content updates, and others now being rolled out, will prompt evolutions in our tactics, not the end of our careers. They are simply promoting changes that should benefit your users.
Similarly, the advent of AI technology in the industry may prompt changes in how we work, but robots are not coming for our jobs. Not yet, anyway.
There are excellent use cases for AI in SEO, from content planning to Hreflang generation, but for all of these, they currently only represent ways to drive efficiencies in SEO. The planning, prioritization, and often final execution of SEO work are still the domain of humanity, not technology.
Despite this, these changes have meant we are more and more challenged to show the effectiveness and crucial nature of SEO in the marketing mix. But, just as our work must evolve in the new SEO age, so too should our reporting.
We should be demonstrating our value beyond organic revenue, traffic, and rankings and instead working cross-channel to create whole search strategies and report on lowering blended CPAs to really highlight the critical nature of SEO for business, particularly in times of economic downturn.
Use your data to show that SEO isn't dying; it's just evolving!
There are 3.5 billion searches on Google per day, and a large portion of that is with commercial intent. Like it or not, Google is a part of the global lexicon and behavior.
If you sell products or services, there's only a small chance that SEO isn't an effective strategy. The only organizations that see SEO as irrelevant are the ones that are letting their competition beat them.
The death of SEO is something that has come up time and time again. While I think SEO will continue to change and adapt, I don't think it's redundant as a strategy just yet.
I do, however, believe that every business has to adopt a multi-channel approach. The online world has become far more interconnected, so relying solely on SEO, or any one channel for that matter, is, in my opinion, a mistake.
I also believe that even with the advent of generative AI, people inherently like to feel like they are making their own decisions and thus want to look at multiple solutions. This is where SEO comes into its own.
Is SEO dead?
Ah, the same old question that keeps creeping on year after year as we all in this industry are all doomed.
The SEO world has come a long way since the early days of just stuffing keywords everywhere. Google is only getting smarter, refining its algorithms faster than you can say "SEO." So, naturally, SEO has got to keep up with the times.
The next big thing? Mixing some good old human creativity with AI and data
To really win at SEO in the future, we have to get inside our audience's head and understand what they're looking for when they search. Creating content that's super tailored to each user is key as personalization keeps growing.
That means creating content that's actually useful, which, by the way, is easier said than done.
As search engines continue to evolve, SEO strategies need to evolve as well. Optimizing for entities rather than keywords will become more important.
Entities are topics or subjects that search engines can understand and categorize. This includes people, places, organizations, products, etc. Rather than just targeting generic keyword terms, SEO will shift to optimizing content for relevant entities.
For example, a blog post about the best pizza places in London would optimize for entities like specific pizza restaurants, London neighborhoods, and related topics. This provides more context and meaning versus just targeting "pizza" and "London" keywords.
Ranking entities requires building authority and relevance around those subjects. Schema markup, knowledge panels, and entity-focused link-building help search engines make connections.
Focusing on entities and topics allows brands to capture more long-tail, informational searches. There is less competition for entity-based queries, as they are more specific than generic keywords. Entity optimization leads to more personalized results aligned with the searcher's intent.

Obviously, we can't forget that sites have to load fast, be easy to navigate, and work flawlessly on any device, especially smartphones. Checking those Core Web Vital boxes matters.
Video, voice search, TikTok—they're all changing content in big ways. There's a big opportunity to specialize and conquer those emerging formats.
High-quality links built through relationships and digital PR will keep getting more and more important. Shady link schemes won't cut it as Google cracks down. In my opinion, playing by the book is the way forward.
The best SEO mixes human smarts with data-driven insights. Use analytics (not only GA4) to learn exactly what your audience wants. Then create something awesome and unique to blow their minds.
In short, the future of SEO goes to those who use technology combined with creativity.
Assess your customers' needs. Make exceptionally useful content. Optimize for new formats. Then you've got nothing to worry about.
The future looks bright for SEO, as the playing field is wide open now. With search engines getting smarter, there's limitless potential for brands who play it right.
To comprehend customers and produce excellent content, creativity with the aid of technology is essential.
In my perspective, SEO is far from dying; in fact, it continues to evolve and remains an integral part of a successful online strategy. With the rapid advancement of technology and algorithms, SEO might look different than it did a few years ago, but its core principles remain the same.
It's about creating valuable, high-quality content that speaks to the needs and interests of your target audience and ensuring that this content is easily discoverable through search engines.
SEO continues to be a crucial strategy for online businesses as it improves online visibility, drives organic traffic, and builds trust and credibility. However, to stay effective, it requires regular monitoring and adaptation to the ever-changing search engine algorithms and user behavior.
In short, SEO is not dead but rather thriving in its ability to adapt and help businesses succeed in the digital landscape.
So, it's essential for online businesses to continue investing in SEO as a long-term strategy for sustainable growth and success.
Good SEO has certainly transformed over the years. It's crucial to understand that SEO is far from 'dead' or 'ineffective.'
The SEO of the past relied on algorithmic manipulation, but today it's about combining human relevance and algorithmic alignment. Our job is to create content that genuinely meets user needs, prioritizing their intent.
In this evolution, SEO remains not only relevant but central to digital success. It's just another marketing channel brands can use to persuade their customers to do business with them.
The industry commands quality, and subpar work that does not take a holistic marketing approach is not going to yield the results of the past.
I would say that what I have seen in the last year is a greater shift towards paid advertising vs. SEO, mainly because paid advertising is quicker to get results than SEO, and people are not as reluctant to play the long game.
Good SEO is definitely not dead. There's still lots of opportunity for businesses to capitalize on SEO if they implement a good strategy.
SEO isn't dead, but maybe the term is out of date. SEO has always evolved and is moving so fast now that soon there will be a whole new set of challenges that search engine optimization may only partially cover.
The good news is that the industry will be more relevant and vital than ever (it will be hard for non-specialists to keep up), and for those of us working in SEO with our particular set of skills and brains that love a bit of problem-solving, we will be in our element.
My view is that soon search engines will just be one type of research engine; in fact, this is already happening, and early adopters of new tools, which replace or improve on some of the things we used to use search engines for, are increasingly picking what is most suitable for their needs for a specific problem they want to solve.
So we are of course talking about generative AI chat bots, like ChatGPT, Bard, New Bing, and Ernie, but this is just the start, and these are still pretty general in what they can do, though they will surely continue to be part of the toolbox we will have at our disposal.
The underlying architectures (e.g., Transformer) and language models (e.g., PaLM2), many of which are open source, make it easier for new entrants to come in and create, relatively quickly, new tools that can be focused on a particular type of research or problem.
Previously, Google was the go-to for all sorts of different questions and problems, but it was a 'jack of all trades and master of none'. Google will still invest to stay ahead (and has a huge amount of data to give it an advantage), but it will need to build more specialist tools as part of its offering to stay relevant.
Google's new 'Perspectives' tab for user-generated content is one example of this and a good example of the new challenges (and opportunities) for us SEOs.
What will other tools look like? Some that already exist have little commercial value to optimize for, such as Semantic Scholar (an AI-powered research engine for academic works) or Wolfram Alpha (a natural language 'computational intelligence' engine).
Others, like AI shopping engines (which include the version of Google's SGE with shopping ads integrated), could be much more important to optimize for.
Amazon has invested heavily in AI and wants to improve its search and comparison features using AI to make it the de facto starting point for any research journey, looking for not just a product but also finding the right product to solve a problem.
Other similar engines competing with Google and Amazon might be exactly where we need to focus our optimization efforts in the future for e-commerce.
Other engines may be focused on specific types of research, some that are great at giving one definitive, clear answer (such as perplexity.ai), others that are good for exploring a general topic and going down a rabbit hole of learning and getting deeper and deeper into a topic (such as komo.ai).
So should SEO become REO, 'Research Engine Optimization'?
Whether we change the name of what we do or not, we will need to deal with a different set of challenges across a different range of platforms to make sure we optimize for the most relevant tools for our companies or clients and their target audiences.
SEO will always be relevant and vital to any digital marketing strategy, as long as search engines like Google and Bing remain relevant and popular with mobile users.
Every time I onboard a client's business into the agency I work for, I see a huge untapped potential that SEO will bring to their online business.
This is because, quite simply, many business owners and marketers themselves do not fully understand the fundamentals of SEO, and with the ever-changing developments in search, businesses need SEO experts to navigate the complexities of Google search and its ever-changing ranking systems.
It's not that SEO is becoming less effective or even "dead"; it's more of a fact that beyond the SEO basics, which have never changed, it's now a lot more complicated to rank websites than ever before. Why?
Well, Google is constantly updating and improving its ranking systems and algorithms to provide the best content and the best results for its users. If Google doesn't do this, it'll lose the next generation of users to the likes of TikTok, Instagram, and other emerging social media platforms.
With the helpful content updates to Google's ranking systems and the expected launch of 'perspectives' alongside generative AI in Google's search results, the SEOs that evolve and adapt their strategies to work alongside social media and influencer strategies will be the ones that continue to thrive.
The notion of SEO being dead has been something that has been a topic of conversation for almost every year that I've been working in the industry, and it always makes me laugh. Ultimately, there will always be a requirement for SEO as long as search engines exist.
With the introduction of AI results into traditional search engines, there's likely to be a lot of competition for space within search results, but this has always been the case and was a similar topic of discussion when featured snippets were first unveiled many years ago.
There will still be optimization required in order to show up in the space that's available, even if Google and Bing do go super AI-heavy with their results, and trust in AI-generated results still has a long way to go before it can overtake human-led insight and truly unique, valuable, and reputable content.
Additionally, the definition of a search engine is very broad. So whether a user is searching on Google, Bing, Amazon, TikTok, or almost any other platform, there's an element of search optimization involved.
At the moment, 'SEO' as an industry is very much focused on traditional search engines, but that doesn't mean the future of SEO should be rigid; our techniques can be applied to any method of search.
Is SEO dead? No, it's not. SEO isn't going away; it's here to stay. However, specific SEO strategies may lose their effectiveness over time. When Google tweaks its algorithm, some people may rush to proclaim the death of SEO.
Changes in Google's algorithm can indeed diminish the effectiveness of certain SEO tactics, but it's essential to remember that this doesn't imply SEO as a whole is doomed.
With each Google update, some SEO methods may become less successful or even obsolete. Some individuals claim SEO is dead because the tactics they were using have failed or are no longer effective.
However, after each upgrade, new SEO approaches become effective.
SEO is about helping Google interpret and evaluate content for ranking. This core function will always be vital because it's how search engines operate and give users the most relevant results. SEO is about aiding Google in understanding and assessing content, ultimately affecting its ranking.
This basic function will always be important, as it's the foundation of how search engines work and provide valuable results to users.
---
In conclusion, SEO is not dead. While the landscape of SEO has changed over the years, it still remains a crucial aspect of digital marketing.
As search engines continue to evolve, so do the strategies and tactics used in SEO. It's important to stay up-to-date with the latest trends and best practices in order to achieve success in SEO.
Throughout this expert round-up, we've heard from a variety of industry professionals who have shared their insights and experiences with SEO.
From the importance of quality content to the impact of voice search, there are many factors to consider when optimizing for search engines.
Ultimately, the key to success in SEO is to focus on providing value to your audience. By creating high-quality content that meets the needs of your target audience, you can improve your search engine rankings and drive more traffic to your website.
So while SEO may not be the same as it was a decade ago, it's certainly not dead. With the right approach and a commitment to continuous learning, you can achieve success in SEO and drive long-term growth for your business.