Introducing Romain Brabant: Pioneering the Future of SEO
In the dynamic world of search engine optimization (SEO), staying ahead of the curve is crucial. And at the forefront of this ever-evolving landscape is Romain Brabant, the brilliant mind behind SEO Buddy. With a journey that began two decades ago during his entrepreneurial endeavors, Brabant's deep understanding of SEO has propelled him to the top of the industry.
In our exclusive interview with Romain Brabant, founder and CEO of SEO Buddy, we had the privilege of diving into his extensive background and gaining valuable insights into the current state of SEO.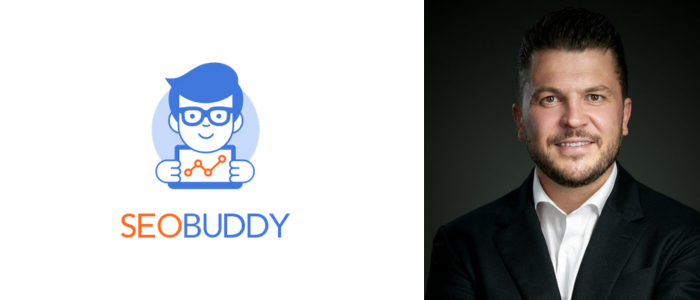 Brabant's journey started with selling Cell Phone Accessories online, where he quickly discovered the immense power of organic traffic as a driving force behind sales. This realization ignited his passion for SEO, setting him on a path to becoming one of the most respected figures in the field.
Throughout our interview, we delved into various aspects of SEO, exploring topics such as link building, the impact of artificial intelligence (AI) on SEO, and practical tips for launching successful SEO campaigns.
Brabant's expertise and experience provided invaluable perspectives on these critical areas, shedding light on the strategies and techniques that can make a substantial difference in a website's visibility and online success.
As SEO continues to evolve, Brabant remains at the cutting edge, pioneering new approaches and strategies that adapt to the ever-changing algorithms and trends. His insights serve as a beacon for digital marketers, business owners, and aspiring SEO professionals seeking to navigate the intricate world of search engine optimization.
Read the full interview below and unlock valuable insights from Romain Brabant, founder and CEO of SEO Buddy.
---
Q. Can you share with us your background and how you got into the world of SEO?
My name is Romain Brabant founder & CEO of SEO Buddy. I got into the world of SEO during my entrepreneurial journey that started 20 years ago. My first business was selling Cell Phone Accessories online and organic traffic was our biggest driver of sales at that time.
Q. Can you tell us more about SEO Buddy and how it helps with content creation, link building, and other aspects of SEO?
Today SEO Buddy focuses on three side products the SEO Checklist, the SOP Collection which are info-products to teach SEO Basis, and the Link Chest which is a database of easy-to-win backlink opportunities targeting new business, to kickstart your link building journey.
We quietly shut down our core SaaS product due to a lack of product-market fit but we hope to be able to make the necessary pivot in Q4 2023.
Q. What is your take on the current state of SEO, and how do you see it evolving in the next few years?
In my opinion, the 3 pillars of SEO will remain unchanged for the years to come.
Content Relevancy & Search Intent: Google is in the business of delivering the best answer to any question, your goal is to produce this best answer, creating quality content is the key and if AI can help, it also requires quality visual and video content, which become more and more costly to produce.
On-Page & Technical Optimization: The process of making and optimizing the content on your web pages so that it appeals to both search engines and users.
Authority (Off-Page SEO): Ultimately when few competitors have good content and equality optimized websites (On-Page SEO), it's the contender with the most authority (Backlink, Mention, Review) that will rank number one.
Q. What are your thoughts on Google Generative AI, and do you think it will eventually replace human content creators?
Generative AI means the end of writer's block for those who master it. My best guess is AI will accelerate the pace of content creation and enable human content creators to go more in-depth to create long-form content.
Q. Since links have consistently ranked among the top three factors in search engine rankings, do you believe that link building will become even more important as AI-powered content creation tools make it easier for websites to publish content at a higher frequency?
Link Building, Review Collection, and Mentions will remain the main differentiator between competitors for anyone serious about their SEO Journey.
A lot of people tend to procrastinate in their Link Building effort. You can create as much content as you want, without growing the authority of your domain with Link Building, this content will stay an invisible drop in the ocean of content.
Q. Can you share your approaches to link building?
Our holy grail links are getting contextual links on a page that is indexed by Google and actually ranking for the keyword we target. This start by doing a SERP Analysis for that keyword, auditing the results, and then outreach.
This used to be a manual process, but that is now faster with the help of automation, and that will also be disrupted by AI in the months to come.
Q. What criteria do you use to assess the quality of a link before deciding to pursue it for a website?
If the page is indexed by Google, not Orphan, on a domain with a good domain authority (>30) and decent organic traffic (>1,500 / month), then it's good to go.
Q. What are your top three favorite link building methods for 2023, and what makes them stand out in terms of effectiveness in your experience?
Finding contextual backlinks with SERP Analysis is our number one.
Next is to monitor unlinked mentions and ask for a backlink.
Competitor Backlink analysis comes third.
Finally, even tho it's not Link Building, collecting more reviews will always be one of the strongest off-page SEO Signals to grow your authority.
Optimizing the process to collect quality reviews should be your top priority in your SEO Journey.
Q. What are your future plans for SEO Buddy, and how do you see it evolving to meet the changing needs of SEO?
Today our goal is to launch a third side product and produce enough income to hire the dream team we need to make the necessary pivot on our core SaaS Product. I can't tell you more about it, and we might as well never launch it due to lack of funding.
In the meantime, we'll focus on improving our SEO Checklist, SOP Collection, and the Link Chest, and also create content for our SEO University and My SEO Journey.
Q. Given the rapidly evolving landscape of search engines in the era of artificial intelligence (AI), what advice would you give to someone just starting an SEO campaign?
Learn about SEO and Keyword Research
Focus first on finding easy-to-rank keywords
Don't procrastinate on your Link Building effort
Use AI to avoid Writer's Block
Create a process to scale and repeat
---
Thank you for your time!
We sincerely hope that our interview with Romain Brabant, founder and CEO of SEO Buddy, has provided our readers with valuable insights into the world of SEO.
The knowledge shared by Brabant on critical topics such as AI's impact on SEO and effective link building strategies is a treasure trove of information for anyone involved in the digital marketing landscape.
By gaining a deeper understanding of these topics through Brabant's expertise and experience, our readers can make informed decisions when developing their own SEO campaigns.
His practical tips and strategies serve as a compass, guiding marketers and business owners toward success in their online endeavors.
We encourage our readers to share this post with their colleagues and peers, as the valuable insights shared by Romain Brabant can benefit a wider audience. Furthermore, we invite our readers to suggest other SEO experts or link building experts they would like us to interview in future posts.
By engaging in this collaborative approach, we can continue to bring forth relevant and impactful content that addresses the pressing questions and challenges faced by the SEO community.
Thank you for joining us on this enlightening journey into the world of SEO. Together, let us explore and conquer the ever-changing landscape of digital marketing, armed with the knowledge and expertise shared by industry leaders like Romain Brabant.
Where you can find me…
Website: https://seobuddy.com
Linkedin: https://es.linkedin.com/in/rbrabant
Twitter: https://twitter.com/romainbrabant