Bridging Strategy, Tech, and Data: Insights from Tory Gray, CEO of The Gray Dot Company
Welcome to our exclusive interview with Tory Gray, a prominent figure in the SEO industry and the CEO of The Gray Dot Company. With a focus on Strategy, Tech, and Data, Tory and her team help engineering, marketing, and SEO teams connect the dots between their objectives, insights, and execution.
Tory's wealth of experience in SEO and growth strategy spans over 13 years. Prior to founding The Gray Dot Company, she held senior roles in both in-house startups and reputable agencies, serving as a catalyst for product and marketing success.
Her approach combines deep SEO knowledge with a growth-minded perspective rooted in kindness, compassion, and proven results.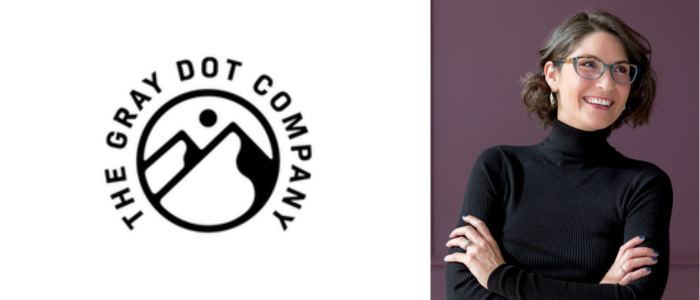 During our conversation, we had the opportunity to discuss Tory's journey and her unique approach to growth strategy. As a mentor for WTSEO, a support network for women in the Technical SEO field, Tory shared her insights on encouraging and supporting women pursuing careers in SEO.
We also explored the current state of SEO and gained Tory's perspective on the future of the industry. Her practical tips and strategies for scaling and growing businesses through effective SEO practices provide valuable guidance for entrepreneurs and marketing professionals alike.
Additionally, Tory shared her favorite methods for link building and how they contribute to successful SEO campaigns.
---
Q. Can you share with us your journey in the SEO industry and how it led you to establish The Gray Dot Company?
Like most people in SEO, I fell into it. I just so happened to get a job in "digital" marketing out of college. There, I learned all about SEO, Pay-Per-Click (which I misheard as "paperclip" in my interview, embarrassingly), feed management, and social — the world of digital in 2008. I spent four years agency-side before moving to a Growth & SEO product role at a growing startup in Denver, Colorado. It was a wild ride!
Soon after having my daughter, I found myself freelancing as I looked for the "right" internal role for my next step. I missed working on "deep" projects that forced me to innovate creatively, and I missed working directly with teams.
Two years later, I realized I was in that role already. While I didn't have a direct team, I was making good money, setting my own schedule (including when, where, and with whom I worked), and was fortunate to work with several amazing client teams — even if I wasn't embedded internally. I not only enjoyed the entrepreneurship aspects, I also happened to be good at it!
Fast forward to the pandemic. As the world attempted to cope with the Covid-19 virus, I found something critical was missing. I wanted my own team that I could collaborate with day-to-day, and I had enough work to make that desire a reality. I met my business partner, Sam Torres, in the Women in Tech SEO Slack Community, and the rest is history!
Q. As a CEO and Founder, what is your approach to growth strategy and how do you combine SEO knowledge with a growth-minded perspective?
The strategy that makes the most sense is the one that is crafted in alignment with factors that are unique to the business: brand positioning, business objectives, the competitive landscape, target audience personas, resources at hand, etc. That's why my "approach" to growth strategy is always uniquely tailored to the brand or site.
The only constant is the need for context. There is always a period of discovery, data-gathering, and research to create a rich picture of strengths, gaps, and opportunities. With that context in hand, it's time to draw actionable insights and bring them together in an informed strategy.
Q. With over 13 years of experience in SEO and growth strategy, what are some key insights or lessons you have learned along the way?
Well for one, the only constant is change (see what I did there?) Marketing will look different in two years, and difficult to recognize in ten. Any good mentor will tell you that, and you should certainly find one — especially in a remote world that can make work feel lonely at times.
Beyond your mentor, find a community where you can learn, share ideas, and get support. I was lucky to find that with Women in Tech SEO, and there are other groups like it out there.
You'll hopefully find kindness and, better yet, empathy. These are the two things that matter most — show them to others! (Remember, you never know what someone is going through.)
Lastly, avoid the gatekeepers. Why use up all of your energy placating those who keep you from learning, growing, and following your passions? Instead, put that same energy into finding and leveraging good knowledge. There's so much if you know where to look!
Q. As a mentor for WTSEO, a support network for women in the Technical SEO field, how do you encourage and support women pursuing careers in SEO?
Women want to succeed in SEO, and they are doing the work. I'm here to help make it easier and more enjoyable. I strive to:
Create a healthy, functional workplace.
Structure roles with enough support and freedom.
Hire women (freelance or W2).
Pay women in SEO the wage they deserve.
Create educational content to help others learn what I've been fortunate enough to.
Mentor and listen.
Exchange insights, learning, and perspectives both on- and offline.
Constantly look for new and better ways to give support.
Q. What is your take on the current state of SEO, and how do you see it evolving in the next few years?
It's… certainly an interesting time to be in SEO. Driving organic traffic through traditional organic SERP results is hard, and it's only going to get harder. Everyone is fighting for less search "real estate" than ever!
As AI results become a part of the search experience and take visual priority on SERPs, organic real estate is likely to shrink rapidly. At the same time, there will be more competition from sites that adopt "prompt-and-publish" content using AI tools like ChatGPT.
All of this points to the need for authoritative and differentiated content that is actually valuable with regard to the user's intent when they search for terms. In particular, E-E-A-T and schema markup are two areas of SEO that should be points of focus.
Structured data will offer more context as to the purpose and information of the page, helping sites win priority placements in AI-generated results — just as it does today with featured snippets and free merchant center listings.
Meanwhile, E-E-A-T considerations will help search engines understand whether the ethos of content makes it worth surfacing over competitors.
Q. In your experience, what are some common misconceptions or myths about SEO that you often come across, and how do you address them?
There are business and marketing leaders out there who think that SEO is a magic, oversimplified, one-size-fits-all formula. That "formula" (high-volume keyword + new landing page = instant traffic) might have worked when I started in SEO, but it's a recipe for disaster now.
When faced with this type of misconception, it can be difficult to advocate for meaningful work in the gray area where a lot of wins happen. Stakeholders are quick to say no because it doesn't fit their understanding of the "formula."
The best thing you can do to dispel this misconception is to connect the dots by using data to demonstrate potential business outcomes.
Q. As an SEO expert, could you share some practical tips or strategies for scaling and growing businesses through effective SEO practices?
This is a subject I'm incredibly passionate about! It's a varied, winding road, but I love the complexity. Some of my favorite ways include:
Working cross-functionally: SEO is more than just your technical setup or "making blog posts." It's in every nook and cranny of a business, including other departments: Sales, Brand, Customer Service, Engineering, etc.
Building win-win relationships where team members understand the SEO implications of their everyday decisions – and care enough to bother to do so – that's where the real magic happens!
Identifying search data patterns: Rather than approaching your SEO content strategy as a series of singular subjects and individual, one-off blog posts, explore what organized repetition you might find in query data.
What can you repeat in a templatized way that provides actual value to an end user? Canva, Grammarly, and AirBnb all identified and used patterns like this for growth.
Leveraging insights with user-generated content, a strategic content program, and/or programmatic SEO: Once you've identified a potential growth pattern in your search data, you need to figure out how to use it.
What pages are needed, what information should be on them, who's going to make them, and how do you make them both incredibly valuable and replicable?
You can explore more in Scaling SEO: A Framework.
Q. Since links have consistently ranked among the top three factors in search engine rankings, do you believe that link building will become even more critical as AI-powered content creation tools make it easier for websites to publish content at a higher frequency?
This is highly possible, unfortunately. Google appears to be exploring many varied means to avoid this, which is a great thing. Perhaps it comes in the form of social links based on post or account engagement metrics, or directly trackable E-E-A-T efforts (perhaps via schema markup). There are options!
Q. Given the rapidly evolving landscape of search engines in the era of artificial intelligence (AI), what advice would you give to someone just starting an SEO campaign?
It's time to explore AI tools! Don't think of it as a wholesale replacement for, well… anything. Instead, explore how it can make you and your work more efficient. Where can you get better, save time, or do more — while still improving the quality of the output?
Just as importantly, understand that there are limitations, amongst which are accuracy and security. ALWAYS fact-check and DO NOT share any secure information. These are tools like any other: use them well, and use them wisely.
---
In conclusion, our interview with Tory Gray, CEO of The Gray Dot Company, has shed light on the intersection of Strategy, Tech, and Data in the world of SEO. Tory's unique blend of SEO knowledge and a growth-minded perspective has fueled her success in helping businesses achieve their objectives.
As a mentor for women in the Technical SEO field, Tory's dedication to empowering and supporting women pursuing careers in SEO is truly inspiring. Her insights into the current state and future of SEO provide a valuable roadmap for staying ahead of industry trends.
We extend our gratitude to Tory Gray for sharing her expertise, practical tips, and strategies for scaling and growing businesses through effective SEO practices.
The insights gained from this interview serve as a guiding light for those looking to harness the power of SEO and drive meaningful business growth.
Where you can find me…
Website: thegray.company
Linkedln: linkedin.com/in/torygray
Twitter: twitter.com/ToryLynne