Unveiling SEO Strategies with Noah Kain: Insights from a Baltimore SEO Expert
In our exclusive interview, we had the opportunity to connect with Noah Kain, the driving force behind Noah Kain Consulting, a distinguished Baltimore SEO agency.
With a laser focus on delivering exceptional ROI, Noah, and his team go beyond the traditional digital marketing realm. They specialize in designing SEO campaigns that not only increase online visibility but also generate significant returns for their clients.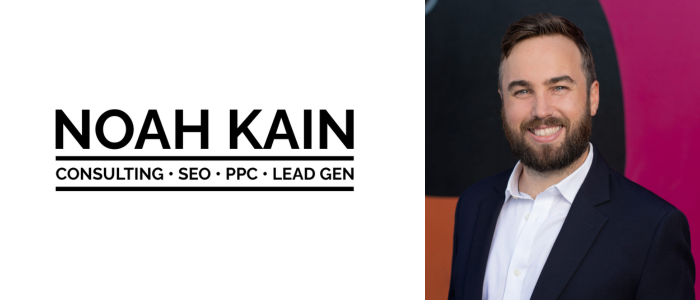 As a Baltimore-based search engine optimization company, Noah Kain Consulting takes pride in building enduring partnerships with its clients, helping them achieve their business dreams.
---
Q. Can you please give us a brief introduction about yourself and your background in SEO? How did you get started in SEO? What drew you to this field?
Prior to running my own agency, I worked at a boutique, full-service agency for almost 7 years. I was their first employee and was exposed to several marketing channels and eventually became the director of marketing.
Even though I was working on multiple channels, SEO was my favorite because of the strategic thinking required to get success and the exponential success I could help clients achieve.
Q. As an SEO expert, what specific services do you offer to your clients?
The two most common offers we provide are Recurring SEO Services and SEO Audits. Our recurring services include keyword research, content creation, backlink building, and management of technical and on-page SEO issues.
Our SEO Audits provide a comprehensive breakdown of issues currently affecting the client's website and an action plan to address those issues and recommendations on the next steps for content and backlinks.
Q. Based on your LinkedIn bio, where you mentioned achieving an impressive 88% increase in organic traffic and a 37% increase in organic revenue within a span of 6 months using SEO, could you share the key factors or strategies that contributed to these remarkable results? Furthermore, do you believe that this approach can be applied to businesses across various industries, regardless of the current state of SEO for their specific website?
Yes, so those numbers are based on the results we've achieved across our portfolio of e-commerce clients within the first 6 months.
One of the biggest reasons we're able to get results so quickly is our approach in the first 1 to 3 months of working with a client. We're able to quickly identify which pages and keywords can have the most immediate impact and also identify on-page and technical issues that are holding the site back.
Many sites have quick wins waiting to be unlocked, it just takes the right approach to find them.
Q. Could you walk us through your process for SEO campaigns? From start to finish, what are the key steps and strategies you follow to optimize websites and drive organic traffic?
Every website is a little different, but in general, we take the following approach:
Run a comprehensive audit of the site
Identify key on-page and technical issues
Build a keyword database to understand the client's niche better
Make a game plan to address on-page and technical items
Create a cadence for content and backlink building
Consistently build backlinks and create content every month while staying on top of technical and on-page issues.
Q. What is the current state of SEO, and how do you believe it will evolve in the age of AI?
AI will make a big impact on SEO, but not in the way most people fear. The best SEO practitioners will become more efficient using AI, but consultants that rely too heavily on AI without using their own brains will get burned and unfortunately, burn their clients as well.
Q. Given the rapidly evolving landscape of search engines in the era of artificial intelligence (AI), what advice would you give to someone who is just starting an SEO campaign?
SEO is always an evolving landscape but at the end of the day, the core parts have always remained the same:
Make great content
Build quality links
Keep your site optimized properly
If you can do that, with or without the help of AI, you'll have success.
Q. Since links have consistently ranked among the top three factors in search engine rankings, do you believe that link building will become even more important as AI-powered content creation tools make it easier for websites to publish content at a higher frequency?
I don't expect links to become more important than they already are (which is very important!). I think AI-powered content will make creating unique and valuable content more difficult.
Q. What are your top three favorite link building methods for 2023, and what makes them stand out in terms of effectiveness in your experience?
We use a combination of cold email outreach and prospecting and tools like HARO (help a reporter out).
Q. What criteria do you use to assess the quality of a link before deciding to pursue it for a website?
For us, it's important that a link comes from a site that has a natural link profile itself, is ranking on page 1 for real keywords and with authentic pieces of content, and overall covers the niche we're working on.
Q. As an SEO expert, are there any specific tools or functionalities that you wish existed in the market to make your job easier or more efficient?
Yes, but keeping that a secret for now.
Q. Can you share any books, articles, or other resources from industry experts that you have found valuable?
The websites and Youtube channels of Nathan Gotch and Brian Dean have been of extreme value to me.
---
Our interview with Noah Kain provided a captivating glimpse into the world of SEO strategy and consulting. His dedication to crafting tailored campaigns and driving tangible results for his clients sets Noah Kain Consulting apart from the competition.
By combining expertise with a deep understanding of client's goals, the team at Noah Kain Consulting has become a trusted partner for businesses seeking to thrive in the online realm.
Implementing the insights and strategies shared by Noah can unlock new opportunities for improving online visibility, enhancing brand presence, and reaching new heights of success.
Stay tuned for more interviews with industry experts as we continue to uncover the secrets of SEO excellence.
Where you can find me…
Website: workwithnoah.com
LinkedIn: linkedin.com/in/noah-kain-77aab592
Twitter: twitter.com/Noahs4Cents