Unlocking the Power of Topical Authority with Koray Tugberk Gubur: Insights from an SEO Expert
Welcome to our exclusive interview with Koray Tugberk Gubur, a renowned SEO expert and the driving force behind holisticseo.digital. Koray has dedicated his expertise to harnessing the power of Semantics and Topical Authority in SEO.
In this interview, we had the privilege of exploring his background, delving into his SEO courses, and gaining insights into the state of SEO today.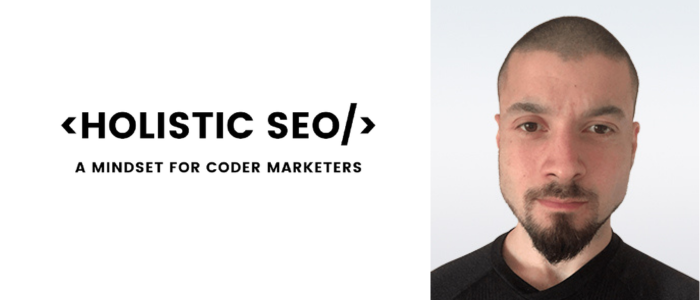 Koray's passion for SEO and his deep understanding of Topical Authority shines through in his SEO course, which focuses on leveraging the semantic web to achieve sustainable rankings.
With the ever-evolving landscape of search engines, his courses provide invaluable guidance on staying ahead of the curve.
During our conversation, we had the opportunity to discuss the current state and future of SEO with Koray. His insights shed light on emerging trends, the importance of adapting to algorithmic changes, and the role of Topical Authority in driving organic traffic.
Whether you're a seasoned SEO professional or a beginner looking to enter the field, Koray's tips and strategies offer actionable guidance to enhance your SEO campaigns and boost your online visibility.
---
Q. Can you please give us a brief introduction about yourself and your background in SEO? How did you get started in SEO? What drew you to this field?
Hey, I am Koray Tugberk Tuğberk GUBUR. I started SEO in late 2015, and I started SEO thanks to an old friend who told me that there is something called SEO.
At first, I thought that SEO is a chemical formula to cook, and I feared that my friend is actually a drug dealer. Then, I learned that it is an entire giant industry that relies on math and algorithms, this section attracted me rather than editorial marketing.
I have started SEO as a blackhat, in Casino Industries. I have seen some awful things unfortunately or fortunately because they helped me to get better, and be more consistent in the industries.
My first experience in SEO was fixing a dead PBN so that Google started to rank it again. We had a good time then. I learned that to rank higher it wasn't always about adding more links but it was also about deleting more links sometimes.
We managed to connect the toxic part of our PBN with the quality part of the competitor PBN, and Google re-ranked most of the competitor websites while bringing ours back. It was the moment that I fell in love with search engine optimization.
In 2018, 1 August, we lost the entire PBN due to the Medic Update, since then, I still fear every 1 August. Because on the same date, I also experienced a complete server breakdown for many websites later, and it created a kind of superstitious fear for me.
After the medic update, I joined the military, came back and started to work in white-hat industries. I have started to read the Google Patents and the research papers, especially after the Medic Update, because I realized that reading things is cheaper than not reading.
I started to do the SEO experiments in my mind rather than spending millions of dollars to just crack Google's loopholes. One of the reasons that I have come to the white-hat industries is because we lost a good amount of capital while trying to bring PBN back after the Medic Update.
Since I came from the blackhat industries, to be honest, agency SEO was really easy for me. In Istanbul, usually there are lots of college kids in the agencies, and it is easy to compete against them. They did not see the illegal side of SEO, I am saying illegal because casinos are illegal in Turkey.
Thus, I was able to generate better results quicker. After a while, I realized that most agencies only focus on invoice repetition rather than actual result creation, this triggered me to create a proper SEO agency and a new mindset.
Instead of trusting Google search relation teams always, and spokesperson, I have chosen to trust Google inventors, engineers and algorithms. In my mind, a Google SERP is 1000s times more important than what a Googler says. Thus, I started to write SEO Case Studies.
Most of the time, I have written these case studies for myself. Then, in a weird way, people started to realize them and like them. After 500,000 words and 30 hours of video SEO Case Studies, we launched our own SEO Course for Semantics, mainly for Topical Authority.
We have accepted the first 1000 trainees in the first 3 weeks and created a private community. We also have a Public Holistic SEO Community which is larger than 7,000 marketers and coders, today.
I always wanted to change how SEO is done, and I wanted to make new traditions for it, and I named it as Holistic SEO, a mindset that optimizes every pixel, letter and byte for higher rankings, conversions and profit.
Today, as thousands of marketers and coders, we are growing swiftly. The SEOs who contributed my character and love of search philosophy, marketing and coding are Bill Slawski, Hamlet Batista, and Shaun Anderson.
Q. Can you tell us about your Holistic SEO & Digital? What inspired you to start it, and what services does it offer?
The main inspiration for Holistic SEO & Digital is changing the fundamentals of search engine optimization and creating new foundations for the future of search ecosystems. The minor inspirations are helping clients to achieve their business goals, and help marketers to feel safe, and achieve financial success and independence.
After the Medic Update in 2018, I have started to work in some agencies, and one thing that bothered me constantly was that I have seen lots of SEOs who lie to clients, and a few times I was warned because I was always telling the truth to the clients. I hated that moment. Another thing that I hated during my own employment was the missing solidarity between the SEOs, and many SEOs had always an existential crisis.
Every year they felt that SEO is dying, in fact, it is changing and growing. Thanks to Generative AI, SEO is more important, and Holistic SEO is the only way for it as a coder and marketer unification.
Based on these two minor and one main inspirations, I decided to create my own agency to end the existential fear, crisis, and support abundance mindset for SEOs while inviting them to a scientific and engineering mindset with Holistic SEO approach.
During this time, I knew many unique SEO methods and concepts, I implemented them for the clients, and I never hesitated to share these. The only problem was most SEOs did not like reading, listening or learning the complex structures because it was harder to sell.
Today, the people who did not listen to me for free in 2019 want a discount to join our private community. I see this as an inevitable change.
Q. Can you provide an overview of the SEO courses offered by Topical Authority Digital? What specific topics or areas of SEO do these courses cover, and who are they primarily designed for?
The Topical Authority phrase always existed, but it is not used for semantics as I use it before. I have invented the concepts of Topical Authority, Contextual Vectors, Bridges, Semantic Content Network, Cost of Retrieval, Micro Semantics, by redefining them in a conceptual framework and working style.
The Topical Authority Course involves step-by-step and concept-by-concept construction of a new mindset for SEO. It is completely new, unique and working. Inside the course, directly there is a chance to see actually ranking websites, and actually used files.
It demonstrates the kitchen side of the SEO Case study projects that I published before. I have more than 2000 topical maps and semantic content networks, over 700 hours training recordings with various clients, partners and pioneers.
Some of these lovely people wanted to visit me in Istanbul, and I accepted it. I trained them in-person, they have gotten results, and then they became beta-testers for me.
Through the past two years, I have created the Semantic SEO Course multiple times, and I tried my best. I have listened to beta-testers, I have simplified and streamlined everything as much as possible.
Q. How does Topical Authority Digital ensure the quality and effectiveness of its SEO courses? Are there any industry certifications or endorsements that validate the credibility of the courses?
The SEO Course & Digital ensures the quality and effectiveness of the SEO Course for Topical Authority through 2 years of Beta-testing process by 8 different international and multi-millionaire investors. All these 8 people were trained by me in various years or timelines, and we achieved great results in various projects.
We became friends through the time and now we are here together with them. The course is over 9 hours, and it already provides the existing ranking websites with their kitchen-side project files which means that it gives an opportunity to audit the existing websites properly and effectively.
We provide a certificate at the end of the course, and we continue to update the course with the new content that is requested by the course trainees. We have a 1000 people in the Private Holistic SEO Community, and they already share pretty unique content, their own success stories, and resources.
There are a tremendous amount of endorsements, and testimonials from our audience, trainees and students. The course is already completely unique, and it has been reviewed by many people.
You can check our latest testimonials from Koray Tugberk GUBUR YouTube Channel.
Q. What is your take on the current state of SEO, and how do you see it evolving in the next few years?
The current epoch in Search Engine Optimization (SEO) is best characterized as a transitional period. While the fundamental pillars of SEO—namely Relevance, Responsiveness, Authority, and Usability—remain immutable, their embodiments are evolving.
Take, for instance, one of our SEO Case Study websites that was spotlighted by Google during their Google Bard Announcement. This particular website has been optimized with an explicit focus on semantic and linguistic elements, aligning perfectly with Google's evolving SEO algorithms.
Our unique approach revolves around optimizing our websites to accord with the principles of information retrieval and extraction. We provide the most trustworthy, accurate, and original answers in the most relevant, well-structured, and interconnected manner.
By placing these answers in the most appropriate sections of the web document, we create a network of linked documents. This process, which I've termed 'Semantic Content Networks', reflects the changing dynamics of SEO.
Search engines today are not merely choosing answers; they are generating new ones by attributing citations to original sources. The selection and generation of these answers depend heavily on their format, context, sentence structure, and discourse integration.
To ensure that your website is selected, cited, and utilized as an information source or a search result page extension, it is imperative to optimize both your content's format and the information it carries, in line with the operating principles of search engines.
For instance, if a question begins with the interrogative term 'what' and includes a plural noun, a listicle format is often best suited.
However, if the number of items in the list is fewer than four, it is advisable to use a paragraph format with incremental ordinal terms like 'first', 'second', along with qualifiers such as 'main' or 'major'. This nuanced understanding is gleaned from extensive semantic research and analysis, and I strongly recommend adopting a similar approach.
Lastly, it's time to let your website communicate more dynamically. There will be content that is openly published, and other content that is hidden, only to be shared through chat windows.
This new paradigm of verbalizing knowledge bases and emphasizing micro semantics is the next frontier in SEO. Embrace it, and let your website speak to its visitors.
Q. Since links have consistently ranked among the top three factors in search engine rankings, do you believe that link building will become even more critical as AI-powered content creation tools make it easier for websites to publish content at a higher frequency?
Yes. PageRank doesn't go away, and it will always stay as a constant signal for authority and relative importance in the link graphs. Authority and Brand signals are the unique attributes for the information.
In today's world, who you are is more important than what you tell, especially for a search engine that focuses on "consensus" rather than factuality.
Q. Can you share your approaches to link building?
I inaugurated my Saigon Speech at the SEO Mastery Summit by discussing Link Building, a topic often misunderstood. I want to clarify that I am not averse to Link Building.
My development and structuring of the Topical Authority approach is not a reaction against Link Building, but rather a response to the widespread misunderstanding of how search engines work.
In my perspective, it's crucial to recognize the diversity of links that can bolster a website's visibility and the fact that authority is not synonymous with PageRank. Yes, certain links can amplify your authority without necessarily boosting your PageRank.
At times, even in the absence of a link, a positively-toned review featuring a brand mention within a relevant context can enhance your authority and relevance on a particular topic.
Consequently, I propose that either the definition of PageRank should be modified, or we need additional, supportive contexts that clarify the role of links and branding in today's digital environment.
In my methodology, I have incorporated content marketing strategies that I term as Link Maps and Link Sprints.
This approach meticulously plans the linking process – from determining the originating URL and target URL, to deciding which paragraph, word, and sentence will be linked, and even when and how frequently these links will be deployed, as well as their relevance to the topic and query context. Every link is planned considering its correlation to the succeeding and preceding links.
In my experience, once I initiate the link-building process, it becomes a relentless endeavor. One must maintain a certain level of link velocity, ideally in an unpredictable pattern, to evade detection by search engine algorithms. As a part of my strategy, I also interlink my competitors along with my site to obfuscate any traces of manipulation.
This strategic approach to link-building forms an integral part of my SEO mastery.
Q. What criteria do you use to assess the quality of a link before deciding to pursue it for a website?
The source of the link has to win the last 2 core algorithm updates.
It has to be affected positively during content and link spam updates.
It has to have actual traffic.
I had to have more than 2 years of ranking.
It has to have brand search demand.
It has to have social media accounts, and activity.
It has to rank with its latest published articles.
It has to have common queries and topics with my own source.
It has to be linked by some targeted competitors.
Holistic SEO is ranking for all costs, and earning against every competitor. It is not for simple minds.
Q. What are your top three link building methods for 2023, and what makes them stand out in terms of effectiveness in your experience?
The efficacy of link building pertains to the ratio between the time and financial investment per link and the continuous, enduring positive impact it has on the ranking and revenue generation process. As such, the majority of links in the long term may register a zero effectiveness score as their contribution to ranking degrades over time due to decay.
Consequently, I place a premium on constant queries exhibiting a high level of search demand, and I seek links from high-quality sources, even if they are costlier or more challenging to acquire. This strategy sustains an ongoing boost in ranking and fortifies against potential distortions in the link graph.
Several link building methods, renowned for their long-term effectiveness and permanency, are at the forefront of my preference list. These include producing viral content, generating unique statistical insights, creating infographics, developing original images for image credits, embedding unique videos within content, collaborating with influencers, and utilizing strategies such as newsjacking, broken link building, webinars, and customer testimonials.
Each of these methods plays a vital role in enhancing the quality and durability of link-building efforts.
Q. Given the rapidly evolving landscape of search engines in the era of artificial intelligence (AI), what advice would you give to someone just starting an SEO campaign?
I am leaving a slide from my Zakopane SEO and Content Camp Presentation below.
Whatever you do in the SEO for the future, you will be doing these 7 steps.
And, make your website speak with your users, it is the first rule now.
---
In conclusion, our interview with Koray Tugberk Gubur has unraveled the world of Topical Authority and its significance in SEO. As the founder of holisticseo.digital and the creator of an SEO course on Semantics, Koray's expertise and passion for SEO shine through.
Koray's courses empower individuals to leverage the power of Semantics and Topical Authority to drive sustainable rankings. His insights into the current state and future of SEO offer valuable perspectives on adapting to algorithmic changes and staying ahead of the competition.
We extend our appreciation to Koray Tugberk Gubur for sharing his knowledge and experiences, providing valuable tips and guidance to those seeking to elevate their SEO strategies.
May the insights gained from this interview propel you towards success in the ever-evolving realm of SEO.
Where you can find me…
Website: holisticseo.digital
Linkedln: linkedin.com/in/koray-tugberk-gubur
Twitter: twitter.com/KorayGubur
YouTube: youtube.com/@TopicalAuthority/featured