Unveiling the SEO Expertise of Fili Wiese: A Journey from Google Engineer to Leading SEO Consultant
We are thrilled to present an exclusive interview with Fili Wiese, the renowned SEO expert who has left an indelible mark on the industry. As the only SEO expert in the world to have published SEO articles on the official Google Search Central Blog and the official Bing Webmaster Blog, Fili's expertise and insights are unparalleled.
With an impressive background as a former Google engineer and technical lead in the Search Quality team, Fili has embarked on a remarkable journey of empowering businesses with his profound knowledge of Google webmaster policies, penalties, and the intricate processes within the search engine giant.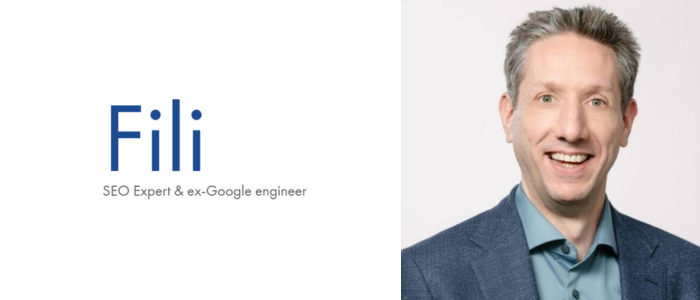 In this insightful interview, Fili shares his motivation behind transitioning from a career at Google to starting his own SEO consultancy, and how his invaluable experience working with the search giant continues to shape his approach in helping clients navigate the ever-evolving SEO landscape.
Join us as we delve into Fili's expertise in international and technical on-page SEO, his unique insights into solving Google penalties, and his unwavering commitment to delivering results for his clients.
Get ready to unlock a wealth of knowledge and gain a deeper understanding of the dynamic world of SEO from the perspective of one of its most esteemed authorities.
Without further ado, let's dive into the enlightening conversation with Fili Wiese, the go-to guy for businesses seeking exceptional SEO guidance and unparalleled expertise.
---
Q. Fili, having worked as a Google engineer and technical lead in the Search Quality team, what motivated you to start your own SEO consultancy instead of continuing your career at Google? How does your experience at Google contribute to the value you bring to your clients in the SEO industry today?
Hello Abul and thank you for this opportunity to share my professional experience. I consider myself privileged for the opportunity I had to work directly on Google Search.
Quite aside from the satisfaction stemming from improving a product that serves millions of people every day, it was the unique work environment at Google and my colleagues at the time who made working on Google Search an extraordinary experience.
The reason for ultimately taking the decision to leave all of that behind was the drive to apply the learnings and build an organization and brand from the ground up: the SearchBrothers technical SEO agency.
Its unique selling proposition stems from the profoundly technical approach driven by large volumes of relevant data and the unparalleled insights gained while designing and implementing Google Search policies, both on my part as well as on the part of my business partner and fellow former senior Google Search employee Kaspar Szymanski.
Together, we apply what we have learned at Google Search for the benefit of our clients and the visibility of their website in Google Search results.
Working directly, as an extended part of the client's team for the duration of our engagements allows insights into many different industries as well as markets and is mutually most rewarding.
Q. With your extensive knowledge and experience in Google webmaster policies and penalties, what are some common mistakes that website owners make that can lead to penalties, and how can they avoid them?
In my experience, the most common mistake is the failure to audit the website on a regular basis. The web is in constant flux. Technologies change and Google policies, such as Google Search Essentials, previously known as Webmaster Guidelines change over time.
Any website's content, technical or backlink signals that used to work well, can over time become a liability. This is why conducting regular, annual technical SEO audits is the only sure way of preventing SEO mishaps as described by my business partner Kaspar Szymanski in this Search Engine Land article.
Q. Technical on-page SEO is a critical aspect of website optimization. What are some key technical elements that businesses should focus on to improve their website's visibility and performance in search engines?
Every website is different and technical SEO is complex. Hence there is no single, SEO silver bullet solution that can be recommended to any publisher. That having said, there's a general recommendation that always serves well: ensuring the website is as fast loading as possible.
All other factors are roughly equal, Google has a tendency to show preference in the rankings to the fastest-loading website. This is due to Google's user-centric approach. Because users generally prefer fast-loading services over slower ones, high-performance websites tend to do better in organic Google Search results.
Q. For businesses operating in highly competitive industries, what strategies do you recommend to stay ahead of the competition and maintain strong organic search visibility on an international scale?
There's a lot that can and in fact must be done in order to maintain high relevance and high organic search visibility, especially in highly competitive environments, such as travel, retail, or the gaming industry.
One critical factor I've already mentioned is regular, in-depth technical SEO audits which preferably should factor in the website's collected server logs. However, one factor is crucially important from a Google perspective: the website's distinct unique selling proposition.
Only when the website's landing pages manifestly display added value not readily available on other, competing web platforms can a website remain well visible for relevant user queries in Google.
Q. When it comes to technical on-page SEO, what are some best practices that businesses should implement to ensure their website is optimized for search engines and user experience simultaneously?
There are many technical SEO knobs to tweak. For substantially large websites, it is their server log data that bares incredible search optimization potential.
Currently, nine out of ten websites do however not retain and preserve their own server logs long-term, which consequently are lost with no chance of recovery. Hence my recommendation is to commence collecting server logs today!
The accumulated server log data will be of incredible value for the website publisher as their next SEO audit cycle approaches.
Q. With the advancements in Google's Generative AI and Bing's AI, how do you think these technologies will shape the future of SEO and organic search?
While AI has great potential to supplement the technical SEOs arsenal of tools, especially when it comes to coding and software development.
AI solutions have the potential to greatly expedite implementation cycles. It's worth bearing in mind that timely implementation can be an SEO-relevant factor. On the content front, AI-driven tools can be used to create content, especially FAQ landing pages or technical guidelines.
To some extent, AI can even be used to generate more in-depth articles, although, at the current level, human editing is still required in order to maintain high-quality standards.
This is primarily owed to the limitations imposed on commercially available AI solutions, such as lack of actual creativity, lack of compassion or understanding of emotions, lack of understanding of human language nuances, and limited comprehension of information or context and bios based on the existing data input.
Q. In your opinion, what do you consider to be the key element for SEO success? Could you briefly explain why you believe this element is crucial in achieving effective search engine optimization outcomes?
High visibility for relevant, converting queries in other words high impressions and high CTR are the primary, desirable objectives of SEO.
Q. As an ex-Google engineer, what are your thoughts on the impact of ChatGPT and other AI-powered content generation tools on the publishing industry? How do you believe these advancements will shape the future of content creation and consumption, and what advice do you have for publishers to adapt and thrive in this evolving landscape?
As mentioned in my previous answer, current "AI" solutions are limited and therefore poorly suited for large-scale application in the content creation process, unless quality standards are significantly lowered.
Unless further development allows for a truly sentient AI, capable of actually creating original content, rather than merely regurgitating existing content stored in large databases, the impact is likely to be limited to yet another, temporary hype.
I see a lot of potential for AI contributing to the preliminary evaluation of large data sets, to be used for content improvement and/or detection of technical SEO issues.
Q. Since links have consistently ranked among the top three factors in search engine rankings, do you believe that link building will become even more critical as AI-powered content creation tools make it easier for websites to publish content at a higher frequency?
No. Backlinks can be an important factor, however, it is worth remembering that a vast majority of documents perform well in Google SERPs with hardly any external backlinks at all. There are much bigger fish to fry when it comes to SEO.
When deciding on SEO priorities the unique selling proposition, landing page performance, and crawl budget management, to name just three, are all by far more important than backlinks.
Keeping in mind that if the website can't be crawled properly then it can't be used to its full potential in Google "AI-powered" SERPs.
Q. If you were to advise businesses on link building, what are the top three link building strategies you would recommend as the most effective for improving their website's visibility and authority?
First, I'd recommend conducting a backlink audit in order to access the current backlink situation to uncover and mitigate any lingering legacy backlinks potentially holding the website back in Google Search.
Next, I recommend focusing on building conversion-driving traffic links as the primary link building strategy.
Q. Given the rapidly evolving landscape of search engines in the era of artificial intelligence (AI), what advice would you give to someone just starting an SEO campaign?
Someone already starting an SEO campaign presumably already has their priorities lined up, hence all that remains to be done are implementation and success measurement in order to gauge the ROI.
In case the results do not meet expectations, please feel free to contact us Search Brothers and we will look into applying all our unique Google Search insights and SEO expertise to assist you in outranking your competitors and getting better conversions.
---
Conclusion
In conclusion, we hope that this interview with Fili Wiese, the esteemed SEO expert, and former Google engineer, has provided you with valuable insights and strategies to enhance your SEO campaigns.
Fili's wealth of knowledge, along with his commentary on the current state of SEO, AI, and link building, offers a comprehensive understanding of the ever-evolving digital landscape.
We encourage you to share this interview with your colleagues and peers, as it can serve as a valuable resource for anyone seeking to optimize their online presence.
Additionally, we welcome your recommendations for other experts in the field that you would like us to interview in the future.
Thank you for joining us on this enlightening journey with Fili Wiese. We hope that the knowledge shared here will empower you to take your SEO efforts to new heights.
Stay tuned for more insightful content and expert interviews that will continue to guide and inspire your digital success.
Where you can find me…
Websites: https://fili.com , https://seo.services
SEO.chat: https://seo.chat/@fili
Linkedin: https://www.linkedin.com/in/filiwiese
Twitter: https://twitter.com/filiwiese