Unleashing the Power of Data Science and AI in SEO: An Interview with Andreas
Welcome to an insightful interview with Andreas, an esteemed expert in data science and AI for online marketing. With over a decade of experience in the field, Andreas has been instrumental in helping businesses harness the power of data-driven SEO strategies. As the founder of artios.io, a leading data-driven SEO company, Andreas and his team adopt a special forces approach to propel startups toward success in organic search.
In this exclusive interview, Andreas shares his remarkable journey and sheds light on the integration of data science and AI into SEO strategies.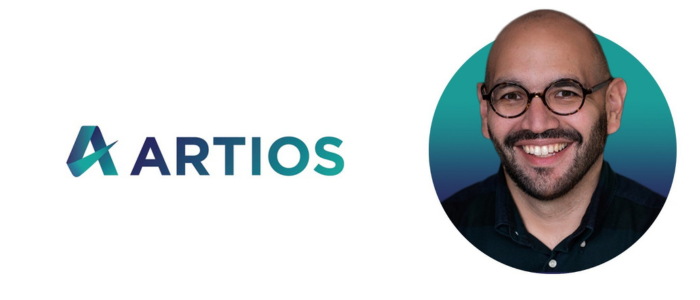 Discover how these cutting-edge technologies enhance the effectiveness of SEO services and provide startups with a competitive edge. Andreas's expertise in link building techniques for startups is also unveiled, offering valuable insights into the top three favored techniques for driving organic growth.
Join us as we delve into Andreas's wealth of knowledge and gain a deeper understanding of the pivotal role played by data science and AI in shaping the future of SEO.
Prepare to be inspired by his innovative approaches and actionable strategies that will empower startups to connect with their target audience, achieve high rankings, and fuel business growth.
Without further ado, let's dive into this enlightening conversation with Andreas, where the world of data-driven SEO meets the world of startups.
---
Q. Can you tell us about your journey in the field of data science and AI for online marketing? How did you get started and what led you to specialize in this area?
I got into data science 10 years ago as machine learning was an emerging trend. I was looking for a change of career as I felt I needed a new challenge, so I started looking for data science courses. The options were to either attend University to study a Master's for 1-2 years or study online, of which I chose the latter.
Q. As the founder of artios.io, can you share the story behind the inception of your company? What inspired you to combine data science, AI, and SEO in your approach to helping businesses grow in organic search?
What's interesting is that while I was looking for a change of career, data science gave me a new way of looking at SEO, but also a new found appreciation of search engines. Because of this I rebranded as Artios, which is the ancient greek word for 'complete and thorough' to reflect our data driven approach to SEO.
Q. How does data-driven decision-making contribute to the success of SEO campaigns?
In many ways, although too many to list all of them here but you can read them in my Data Driven SEO book! I'll give some examples, data driven SEO can help you:
Understand the competitive ranking factors and winning benchmarks for your search space
Design and evaluate split tests more accurately
Make forecasts of your traffic data
Group keywords by search intent for more insightful reporting and more accurate keyword mapping
Q. Your company emphasizes being data-driven. Could you explain how data science and AI are incorporated into your SEO strategies and processes, especially when it comes to specialized Startup SEO? How do these technologies enhance the effectiveness of your services and contribute to the growth of startup businesses?
We're lucky that in the SEO industry the world over, there are some really bright minds all trying to solve the SEO challenge. What we're doing we're scaling that knowledge by automating our data science processes when carrying out that SEO consulting. The automation helps us deliver higher impact SEO work by freeing us up to innovate such as delivering SEO site audits that prioritise technical issues by revenue for example.
Q. With your extensive experience in data science and AI, how do you see these technologies shaping the future of SEO? What are the key benefits and opportunities that data science and AI bring to the field of search engine optimization?
With the advent of LLMs like Chat-GPT and Bard, we've entered a new phase where the "winner takes all". SEO will certainly change and that means that new tools will need to be developed to answer the challenge of being visible in voice search, LLMs.
Right now we have simple tools like crawling software to simulate the interaction with Google and users. The future will require SEOs to have access to SEO-GPT like tools to help their clients and brands keep up.
Q. Your expertise in reverse engineering the Google Penguin algorithm to a high statistical confidence level is impressive. Could you provide some insights into the importance of understanding algorithms and how data science plays a role in uncovering their intricacies?
Although Google doesn't disclose the inner working of algorithms, the advantage of SEO for data science is that the outcomes (i.e. rank positions) and the inputs (site content and the features) are both in the public domain. So it really is a matter of modelling that data using machine learning to uncover those intricacies.
Q. The concept of reducing reliance on paid media ads and achieving consistent results with a guaranteed 200% ROI is intriguing. Can you elaborate on how artios.io achieves such impressive outcomes? What strategies or techniques do you employ to achieve sustainable organic growth for startups?
What we're able to do is not only get a more accurate understanding of search engines, but we're also able to connect the technical aspects of search engines to commercial outcomes. Although it's some years since I left my career as a qualified accountant, the financial implications of any business decision have stayed with me, and SEO is no exception.
Q. In your data-driven SEO campaigns for startups, is link building also an important component? If so, how do you approach link building to ensure its effectiveness in driving organic growth for startups? Additionally, what are your top three favorite link building techniques that you find most effective for startups?
It depends on who you ask. Some brands will never need to pursue link acquisition programmes because they acquire links constantly due to the amount of media activity they do such as TV advertising. However, for most if not all startups, link acquisition is incredibly important.
I only have one favourite technique for link building and that's data driven digital PR because like brands, these campaigns grow links over time. This strongly signals to Google that your startup is achieving brand standard popularity and growth.
Q. Your book on Data-Driven SEO, to be published by Springer, sounds fascinating. Can you give us a glimpse into the key concepts and insights readers can expect to gain from it?
Readers of Data-Driven SEOcan expect to learn how to use Python to better understand what's working and isn't working in SEO to generate higher impact recommendations, and also scale their recommendation generation processes.
Q. Are there any ethical considerations or potential pitfalls that businesses should be aware of when incorporating data science and AI into their SEO strategies? How can they ensure the responsible and ethical use of these technologies?
Aside from not breaking any laws, AI in SEO is helping companies to be more discoverable so as long as we're not promoting companies that cause harm on balance then I'll sleep at night. As far as AI processes go, again it's really a case of doing no harm i.e. not doing anything that infringe other people's human rights.
Q. In your opinion, what are some of the essential skills and knowledge areas that aspiring SEO professionals should develop to harness the power of data science and AI in their work? Are there any specific resources or learning paths you would recommend?
It's great to see the appetite in the SEO industry the world over for learning Python. The essential component that's missing is the appetite for higher maths, which is essential for becoming more proficient in data science.
This is no different to learning languages. One could learn English as a language, but if one is not well read, then there's less diverse ideas to draw from and express in English. The same goes for Python. The maths gives you more eloquence and efficiency to solve SEO challenges in Python.
---
Conslusion
We have had the privilege of delving into the world of data science and AI in SEO with Andreas, an esteemed expert in the field. Through this insightful interview, Andreas has shed light on the transformative power of data-driven strategies, emphasizing their role in driving organic growth and helping startups achieve remarkable success.
From his extensive experience working with renowned companies to his pioneering efforts in reverse engineering algorithms, Andreas's expertise is truly unparalleled. As the SEO landscape continues to evolve, his insights serve as a valuable guide for businesses seeking to harness the full potential of data science and AI in their SEO endeavors.
Prepare to be inspired and take your SEO efforts to new heights with the knowledge shared by Andreas, a visionary at the forefront of the industry.
Where you can find me…
Website: https://artios.io
Linkedin: https://www.linkedin.com/in/andreas-artios
Twitter: https://twitter.com/artios_io