Unveiling the Secrets of SEO Content Creation and AI: An Interview with Anatolii Ulitovskyi
Are you ready to unlock the secrets of SEO content creation and dive into the world of AI-powered optimization? In our exclusive interview with Anatolii Ulitovskyi, the brilliant mind behind unmiss, we delve into his remarkable career journey, explore the current state of SEO, and uncover the impact of AI on the industry.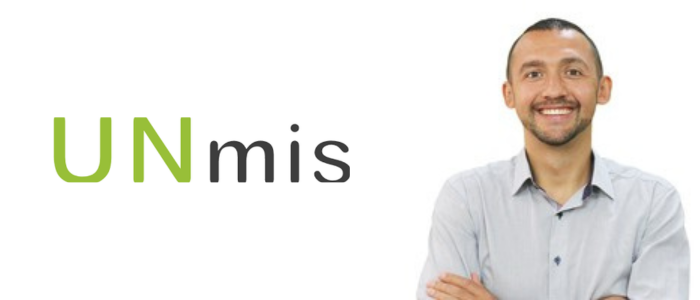 Discover Anatolii's favorite link building strategies, gain insights into his SEO course with top mentors and benefit from his invaluable advice for aspiring SEO learners. Get ready to embark on an enlightening journey of SEO expertise and innovation with Anatolii Ulitovskyi.
---
Q. Can you tell us about your journey from creating your first online shop to becoming the founder of unmiss.com?
My story begins with a long detour into the world of finance and accounting. From 2004 to 2006, I worked in three different commercial banks in Ukraine. It was a valuable learning experience, but I was deeply unhappy. My work week was a waiting game for Friday to come and Monday to go.
One day, a client mentioned that he was planning to open a credit brokerage to assist people in securing bank loans. I didn't think much of it at the time. Part of my job involved researching our competitors' credit programs to refine ours, so I was well-versed in what other banks were offering. I often found myself directing customers toward other banks more suited to their needs.
Then a friend asked for help in securing a loan for his pal. I was swamped and short on time, but he offered to pay for my assistance. It was a straightforward case, and in a matter of five minutes, I earned a consulting fee equal to my monthly salary. This was a eureka moment for me, and I embarked on a new path as a finance consultant. My income skyrocketed 30-fold within six months, and I hired a robust team and invested heavily in growing my company.
Then the World Crisis hit. The Ukrainian government banned all bank loans, and within two months, my business crumbled into bankruptcy. Burdened by a debt equivalent to 3,000 average Ukrainian salaries, I decided it was time for a fresh start in the digital world.
I launched an online store that thrived on paid marketing, but SEO performance was a struggle. Despite collaborating with three different companies over two years, our rankings and sales remained stagnant. So, I decided to master SEO myself, and soon enough, the traffic started to pour in. When friends reached out for help with their SEO needs, I realized I couldn't keep up with the demand and opened my own SEO agency.
In 2013, the Ukrainian revolution and the onset of war with Russia brought my online store to its knees. I decided to channel all my energy into my flourishing SEO agency, which continues to thrive and is currently ranked #7 in Ukraine as per a Serpstat study.
Given the tumultuous economic climate in Ukraine, I decided to diversify and established the UNmiss agency. Today, we are proud to work with some big-name clients and are pushing the boundaries by integrating AI into our products. I'm excited about the journey ahead and have big plans to continue innovating in this space.
Q. Can you give us an overview of the topics that your SEO course covers?
I've found that our best results come when working with clients who understand SEO. Without that understanding, it can be challenging to explain the need for high-quality content designed for both people and search engines, earning reliable and authoritative backlinks, and meeting a plethora of other algorithm requirements like technical optimization, E-A-T, and more.
Realizing this, we decided to reach out to over 20 renowned SEO experts. These are individuals whose insights are regularly featured on SEJ, Search Engine Land, and Ahrefs. They have published books, and they've earned a mention on Forbes as top experts in this field.
Now, we're proud to say our course stands apart from others. We owe this to the collective expertise of brilliant professionals like Mike Philips, Lily Ray, Jeff Coyle, Jenny Abouobaia, and Alex Macura, among others. Unlike most courses taught by one or two mentors covering broad topics, ours offers diverse, specialized knowledge. Each of our experts excels in a specific area, whether that's content creation, link building, technical optimization, or PR. This diversity and depth of expertise make our course one of the best in the field.
Q. What kind of results can students expect to see after completing your SEO course?
In our course, students get to learn modern SEO from top-tier experts who provide practical, result-oriented tips. We devote considerable time to the topic of crafting high-quality content—a vital element across all digital marketing channels. We discuss how simplicity, personalization, user retention, and satisfying user intent all play into content creation. After all, content is still king.
But it doesn't end there. We guide students on effectively adding calls-to-action and selling products because traffic without sales doesn't add much value. From building the right strategy and conducting keyword research to technical optimization and PR strategies that secure unique backlinks, we cover it all.
Our aim is to equip you with a holistic understanding of SEO, enabling you to generate traffic that's not just high in volume, but high in value too. This hands-on, comprehensive approach sets our course apart, making it a truly unique learning experience.
Q. What advice would you give someone who wants to learn SEO but doesn't know where to start?
When it comes to learning, finding a format you enjoy is crucial. Whether it's an SEO course, blog posts, YouTube videos, audio podcasts, books, or webinars, the key is to stick with what works for you. The learning process should be enjoyable, not a chore. Forcing yourself into a learning style you dislike can lead to burnout and a loss of motivation.
I created this course based on my audience's feedback, with 56% favoring this format. However, everyone's different, and I myself prefer reading books, browsing blog posts, and listening to podcasts. My friend, Fery Kaszoni, for instance, swears by YouTube as his go-to learning resource. His dedication even led him to speak at a Google conference at the CEO's invitation.
My second piece of advice is to prioritize practice over cramming information. The digital world evolves at a dizzying speed, and it's impossible to keep track of every new development. But the good news is – you don't have to. Simply pick a specific area that interests you the most and start honing those skills. Remember, learning without applying is a wasted effort. Experience is the best teacher.
Start by launching your website or helping your first client for free. Act on what you learn. As the saying goes, "Just do it." Applying your new skills practically will lead you to deeper, more meaningful learning, helping you become an expert in your chosen field.
Q. How has the SEO landscape changed over the past few years and what do you expect to see in the future?
Modern SEO is more intertwined with marketing than ever before. Before the digital age, marketing efforts were focused on winning customers. When search engines and social media platforms were in their infancy, their basic algorithms were often manipulated by marketers. But times have changed.
Today, Google and other platforms have become adept at selecting content that genuinely helps and supports users. Attempting to unravel the workings of these sophisticated algorithms is like chasing a moving target. With Google alone making over 7,000 updates to its algorithms annually, it's impossible for a human to keep up with and fully understand all the changes. Even if someone somehow managed to crack the code, the reality is that it would be a fleeting victory, with the algorithm shifting multiple times a day.
So, the focus of today's SEO is simple: prioritize people. Always think about the human user first. Then, and only then, optimize for search engines. In other words, instead of trying to outsmart the algorithms, it's far more effective to create content that meets your audience's needs and delivers value. This user-centric approach is the essence of modern SEO.
Q. How do you see artificial intelligence impacting SEO in the near future?
AI is indeed a game changer, destined to reshape our world and how we interact with it. In the future, we'll likely see companies fall into one of three categories: those that develop AI, those that implement AI, and those that become obsolete for ignoring AI. To dismiss AI's potential impact would be a grave error.
While humans may not be able to compete with the capabilities of AI, we certainly can adapt and evolve with them. Traditional roles like writers, editors, and translators may diminish or even vanish entirely, but in their place, new professions will arise. AI controllers, AI prompt experts, and AI managers are just a few examples of the roles we can expect to see in the future.
Though I'm not equipped to develop AI, I'm fully capable of implementing it, and so can anyone else. Tools like ChatGPT and other AI technologies offer a gateway to this future, allowing us to harness the power of AI in innovative and beneficial ways.
Q. What are some of the benefits of using AI in SEO, and how are you incorporating AI into your own SEO strategies?
That's an insightful point. While AI can generate content, the result can sometimes be generic, as over a hundred million users might be tapping into the same technology to produce similar outputs. This lack of uniqueness may detract from the content's value.
However, AI truly shines when used as a tool for editing and translating texts. Its efficiency, speed, and accuracy can be a massive boon in these areas, making the process smoother and more streamlined. So while original content creation may still best be left to humans for their unique perspectives and creativity, AI tools can significantly enhance our capabilities in refining and translating content.
Q. With AI becoming more advanced, do you think it will eventually replace human SEO experts, or will there always be a need for human input in the field?
You're absolutely right. AI, like any significant technological advancement, will certainly disrupt existing roles and processes, particularly those involving routine or mundane tasks. However, just as with the introduction of tractors in farming, these disruptions often pave the way for new opportunities.
The rise of tractors didn't eliminate farmers; instead, it shifted their roles from manual labor to machine operation, effectively increasing productivity and ease of work. Similarly, AI may replace certain aspects of human labor, particularly tasks that require less creativity and more repetition. But this doesn't mean the end of human involvement. Instead, it shifts the focus towards more complex, creative, and strategic roles.
The key is adaptability. As you pointed out, those who can't or won't adapt to new technologies might find themselves replaced by them. But for those who embrace these changes and learn to harness the power of AI, a world of opportunities awaits. Technology doesn't replace human intelligence; it enhances it, provided we're ready to evolve alongside it.
Q. How do you approach outreach for link building campaigns, and what kind of response rates do you typically see?
My favorite strategy, which we delve into in our course, is PR. This isn't your standard link-building method, but it can deliver remarkable results when you pitch succinct studies that bring something fresh, unique, valuable, and newsworthy to the table.
Of course, not all campaigns will hit the mark. But that's part of the journey. Success in PR requires patience and persistence, understanding that not every pitch will yield immediate results. What's important is continuously striving to create and share content that stands out from the crowd, captures attention, and provides value. It's this commitment to quality and uniqueness that ultimately makes PR such a powerful strategy in the SEO world.
Q. What are your future plans for Unmiss, and how do you plan to continue growing it?
That's an ambitious and valuable goal. Developing AI tools to generate content for all website pages can address one of the biggest challenges faced by content creators, including myself: keeping content consistently updated.
In the ever-evolving digital landscape, maintaining fresh, relevant content is critical, yet it can be an overwhelming task. Implementing AI tools can significantly streamline this process, automating content creation while maintaining quality and relevancy.
By focusing on this goal, you're at the forefront of an essential area of digital marketing, paving the way for more efficient and effective content strategies. It's an exciting time, and this kind of innovation will undoubtedly make a significant impact.
---
Thank you for your time!

Anatolii Ulitovskyi, the visionary founder of unmiss, has proven his expertise in SEO content creation and AI. Through our insightful interview, we explored his career trajectory, gained valuable insights into the current state of SEO, and contemplated the future of AI in the industry.
Anatolii also shared his favorite link building strategies and shed light on his SEO course, offering a treasure trove of knowledge from top mentors. Aspiring SEO enthusiasts will find Anatolii's suggestions and expertise invaluable on their path to mastering the art of SEO.
Where you can find me…
Websites: https://unmiss.com/
Linkedin: linkedin.com/in/anatolii-ulitovskyi
Twitter: twitter.com/UlAnatolii