Building a 4-Figure Niche Site – The Ultimate Beginner's Guide in 2023
There is no shortage of "get rich quick schemes" online, few of which ever work out. However, there is one proven way that you can start to generate a passive income online.
And, you don't need to invest thousands of dollars or quit your day job. All you need is to invest some of your time and have the willingness to learn.
Today, there are hundreds, or even thousands, of examples online of people that have become successful niche site owners.
From supplementing your income to quitting your day job and generating a 6-figure income, anything is possible with dedication, passion, and a solid plan.
Today, the affiliate marketing industry is estimated to be worth $12 billion. And you can have your very own slice of that pie.
Technically, the income-generating potential of a niche site is nearly limitless. From a few hundred dollars, to hundreds of thousands of dollars per month, anything is possible depending on your ambitions.
However, a 4-figure income is the magic number where you can start to consider using your niche site for your full-time income.
As this is a reasonable target to aim for most niche sites, it's what we'll be focusing on for this guide.
While there is no magic formula for success, following the guide below will put you on the right track toward building a successful niche site using affiliate marketing.
---
What Is a Niche Website?
As the name suggests, a niche website is focused on a specific niche or topic.
A niche suite can be as general as an entire industry, for example, pets or house cleaning, or as specific as a particular product, such as dog leashes or craft soap.
A niches site can cover any topic, but health, fitness, beauty, travel, fashion, and pet sites are particularly popular today.
Fashion is considered to be the biggest industry for niche sites/affiliate marketing with nearly a quarter of all affiliate marketing programs.
Niche website owners use SEO and content marketing to attract visitors that are interested in the chosen topic.
In most cases, individuals build a niche website in order to generate income. There are many possible ways to monetize a niche website, including selling products, services, visitor data, or ad space.
However, undoubtedly the most popular way to make money today via a niche website is through affiliate marketing.
---
What Is an Affiliate Website? How Does It Work?
So, what is affiliate marketing? Brands have caught on to the potential of influencers and content creators to help them sell their products or services.
So, that prompted many online businesses to offer affiliate programs.
An affiliate program promises to pay an affiliate marketer a commission whenever they make a sale to a visitor that was referred from the affiliate website.
In short, this is how an affiliate program works:
The affiliate marketer signs up for the affiliate campaign of a particular business.
When they register, the business gives the affiliate marketer a unique URL.
The affiliate uses this unique URL to link to the business's products and services.
Via the affiliate link, the business can track visitors and determine whether they were referred from a particular affiliate domain.

When the sale is finalized, the business pays a commission to that particular affiliate.
An affiliate can create any type of content to refer their readers to the products or services of a particular affiliate campaign.
It doesn't matter whether it's text, video, audio (podcasts), etc. as long as they can link to the eligible products and services.
However, because it's one of the most natural ways to recommend products to readers, reviews are the most popular type of content for affiliate marketers.
The textual content also provides the most linking opportunities. So, for this reason, affiliate marketers often rely heavily on content marketing to promote affiliate products and services.
For example, you can write an in-depth review of a particular dog leash or compare the pricing and features of various popular dog leashes.
If you manage to convince a user to buy the dog leash, chances are they will click on the link in your article to go to the website where they can buy the product.
Some affiliate marketers specialize in referring users to online marketplaces, such as Amazon and eBay.
Others specialize in referring users to specific businesses, such as hosting providers or online business tools.
Affiliate marketing works. Roughly 80% of companies today run affiliate programs which is why there are so many opportunities in this field.
---
How Much Can You Earn From Running an Affiliate Website?
Unfortunately, there is no hard and fast rule when it comes to how much you can make from an affiliate website.
Like most other types of online businesses or SEO campaigns, the results largely depend on how much effort, time, and money you are willing to invest.
It also depends on the type of niche you want to focus on.
Not only because the price of goods and services vary wildly from industry to industry and business to business but also because different companies are willing to pay vastly different commissions on affiliate sales.
For example, the typical sale of a beauty product on Amazon might only generate less than $50. Amazon pays up to 10% in commission, which means you'll only make a maximum of $5 per sale.
Now, let's compare that with high-end hosting services that cost hundreds of dollars per year. If you refer to one successful case, you can get $50+ per sale.
That being said, it's also obviously harder to convert high-cost sales than low-cost sales. So, you'll need to balance the commission per sale with the volume of successful referrals you are able to make.
Different niches also have lower or higher levels of interest for you to leverage.
However, even here there's a catch. High-volume niches are typically much more competitive with one or two domains that dominate most of the traffic.
In lower-volume niches, there might be less competition and more space for your domain to take off and become a leader.
With all of these factors to consider, it's almost impossible to calculate how much you can earn running a niche site.
What's more, the amount of time and effort you put in will determine how quickly you are able to earn your first commission and start seeing results.
However, it's safe to say that affiliate marketing is viable at all levels. Some people start an affiliate website only to make some income on the side while others completely replace their income as a full-time occupation.
And, if you're among the lucky and dedicated few, you can generate up to 6 or 7-figure incomes, achieving complete financial freedom.
If you have a solid idea, to begin with, it's absolutely possible to start earning your first commission within the first month or two.
After about 3-6 months, you should start making regular sales and earning 3-figures every month.
Finally, if you manage to keep up the good work and remain consistent, it's possible to start earning $3,000 – $4,000 on a monthly basis.
However, it all depends on how much you're willing to invest. You could build a niche site by yourself, without any premium tools, and reach a 4-figure income within a couple of years.
However, if you're willing to hire writers through a service like HireWriters, a virtual assistant, and invest in some premium SEO tools, you could accelerate that timeline and improve your chances of success.
In most cases, it should be possible to reach a 4-figure income with a few months of hard work, dedication, and assuming you picked a solid niche.
From there, your growth potential will depend on how much extra you're willing to invest into the success of your website.
---
How to Evaluate the Value of a Niche Site?
Buying and selling niche sites have become a massive industry in itself. Some people are experts at building or flipping existing niche sites to sell them for a profit.
Typically, buyers are interested in these sites because it's a way to earn a steady income without having to do the initial hard work.
Unfortunately, not all site owners reveal the income or value of their site publicly, so it can be hard to tell exactly what a 4-figure niche site is worth.
You also have to consider factors such as the age, niche, monthly revenue, long-term value, etc.
However, a good place to start is to visit website marketplaces such as:
Depending on the marketplace, they will typically verify some of the information regarding the website.
For example, Flippa will show potential buyers the monthly income of the site as well as its current asking price. You can use the search tools to specifically narrow down your search to 4-figure sites.
Based on this, you can decide whether it's a good deal or whether a similar site you are considering buying is worth it.
You can even use some of the publicly available information from successful sites when building your own.
Earnings don't always directly translate into the website selling price.
However, according to EmpireFlippers, you can expect to pay between $60,000 – $70,000 for a 4-figure website that generates $3,000 per month.
---
How to Build a Successful Niche Affiliate Website Step-by-step
Step #1: Choose the Right Niche
Since your entire business will be built around whatever niche you choose, it's critical that you get this part right.
To choose the right niche, you'll need to balance a number of practical concerns and personal preferences.
On the practical side, you'll need to consider how likely you are to get results from a particular niche. This includes asking the following questions:
How popular or relevant is the niche right now?
If the niche is highly popular, is it just a temporary fad or trend or is it evergreen?
How saturated is the niche? Is it dominated by a few high-profile domains or is the market flooded with thousands of competitors? Or, is there still some room to compete?
Do many companies in the niche offer profitable affiliate programs?
While researching a niche, you can even combine it with some initial keyword research to see if there are any specific keywords you can build your niche focus around.
For example, if you want to create a hosting review affiliate site, shared hosting might be oversaturated, but there might still be a gap in the market to write about gaming or video streaming-specific hosting services.
People often try to over-optimize and forget one important thing: you are much more likely to be dedicated and create quality content if you are interested in the topic you are writing about.
High-quality, informative, and accurate content is also more likely to attract readership and convert visitors into buyers.
So, it's important that you have some knowledge or expertise in the field you are writing about.
Essentially, you are giving people consumer advice. So, it's important that you come across as having insider knowledge and understanding of their pain points and needs as consumers.
Step #2: Target the Most Effective Keywords
Yes, your niche can be more or less specific by itself. However, what keywords you choose to target will further help you hone in on the exact niche you want to target. You can use keywords to:
Attract users at different stages of the sales journey (i.e., complete beginners, looking for more information, buying advice, ready to buy, etc.).
Differentiate your brand and focus from that of your competitors.
Use various on-page and off-page SEO techniques to rank more effectively for that particular keyword in SERPs.
It's important to realize that keyword research is both something you should do really early on in your journey and as an ongoing process.
New keywords will rise and fall in popularity as trends and consumer interests shift. You need to be able to take advantage of these developments by always looking for new ranking opportunities.
You will need to consider similar factors when choosing a niche when choosing appropriate keywords.
For that reason, it's not a bad idea to mix your niche and keyword research, especially when you're just starting out.
As you can see in the Google keyword planner, shared hosting is a pretty popular keyword with between 1K – 10K monthly searches.
Competition for the keyword is medium which tells us that there is probably still room to compete in SERPs:

Other tools, like WordStream and Ahrefs, can recommend related keywords as well as how competitive they are: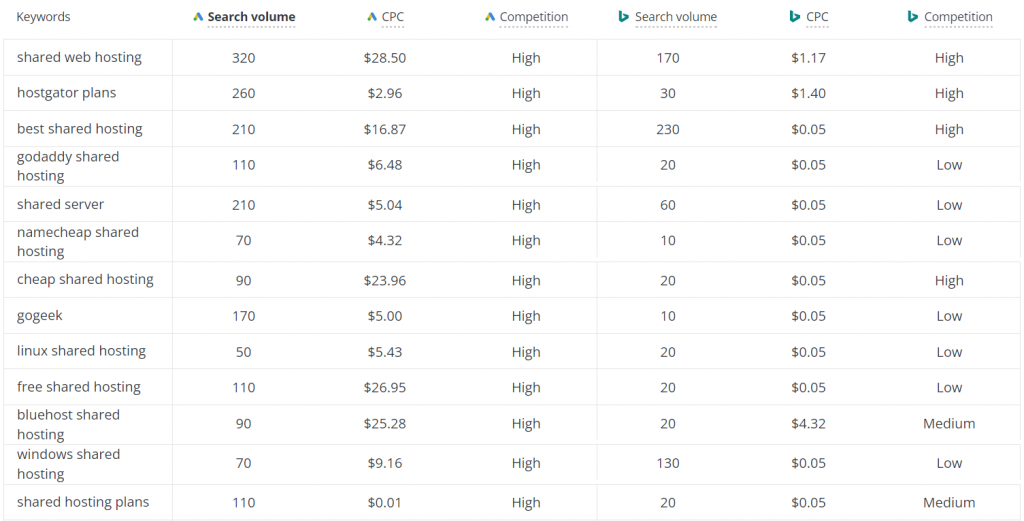 As you can see, almost all "shared hosting" related keywords are highly competitive. This means there are many domains trying to rank for these keywords.
However, these keywords also get relatively high search volumes.
So, while it may be hard for new domains to compete initially, if you do manage to start getting traction on SERPs, there is a huge market to tap into.
This is the balancing act you will need to perform in order to find a keyword to rank for. The ideal would be a high search volume but low competition keyword.
However, those are really hard to find. One strategy many suggest is to first target low competition keywords in your niche until you start to generate some traffic.
Once you have a more established presence, you can start targeting more high-competition keywords as this is often where the most money is.
Step #3: Find Profitable Affiliate Programs
Before you start selecting affiliate programs to participate in, you need to decide on what type of strategy you want to follow.
Some affiliates get better results from choosing either a small number or a single affiliate program to benefit from.
In essence, they will always focus on trying to funnel users to these select products or services.
You can still link to other affiliate programs, but you will mostly use information about these other services to highlight the benefits of your top-rated recommendations.
This has the benefit of focusing your strategy, keyword optimization, and enabling you to earn more from a lower number of affiliate accounts.
If you manage to help generate significant sales, you may even be able to negotiate a higher commission or more favorable terms.
On the other hand, you can take the scattershot approach and just link to every possible product or service in your niche with an affiliate program.
Obviously, you will have a wider range of keywords, content, and affiliate programs to manage, but it does enable you to appeal to a wider audience and build multiple affiliate channels.
As one example, if you plan on building your niche suite around WordPress or website-building tutorials, you could focus on recommending a single hosting provider.
The focus, after all, is your tutorials and guides and the hosting service is simply a means to an end.
However, if you simply want to review various hosting services, you can benefit more from the scattershot approach.
Just remember that, regardless of which way you go, you'll want to tailor your advice and affiliate links to the most profitable programs.
Even for individual affiliate programs, there might be different products or services you can target that are more or less profitable.
For example, commission for Amazon's affiliate program ranges from 0 to 20%, depending on what type of product is involved: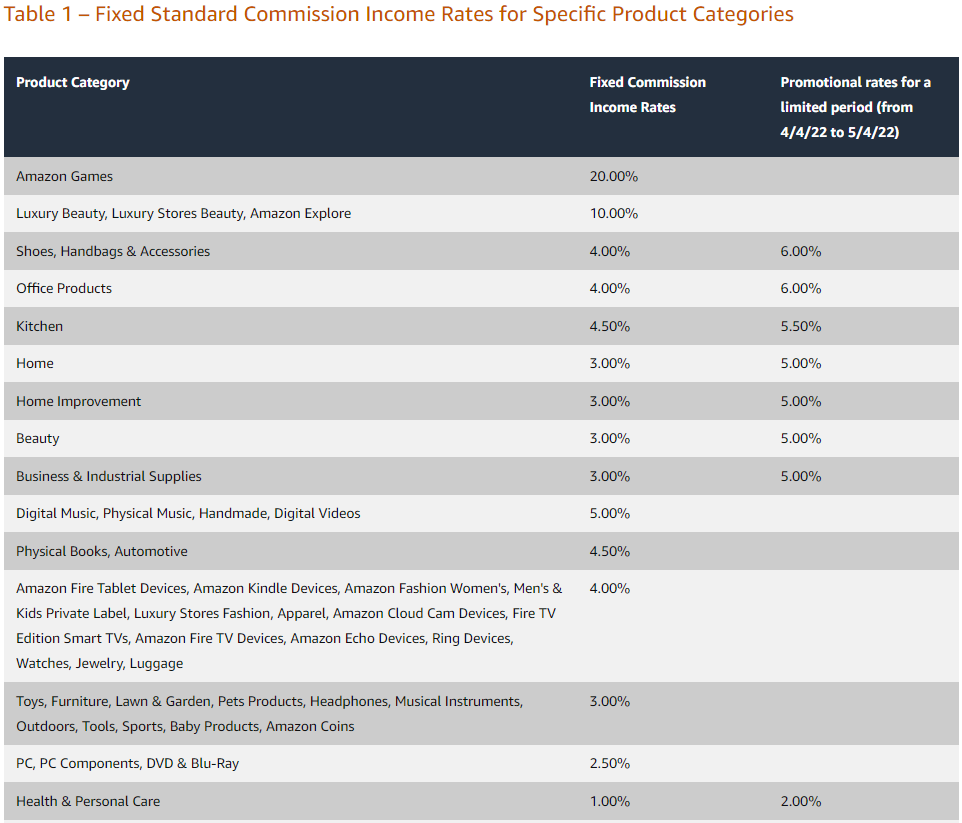 Step #4: Build a High-quality Website
No matter what niche you choose, what affiliate programs you run, and what keywords you target – your physical website will be the foundation of all your efforts.
As an internet user yourself, you know how off-putting a badly designed website is.
Whether it's slow performance, an unprofessional or unattractive design, or difficult navigation – you won't be able to achieve anything if users don't want to stay on your website.
Now, most people do not have the knowledge or time to program and design a website from scratch.
Or, the budget to pay a professional web development service to do it for them. In that case, we recommend using WordPress.
As a content management system, or CMS, WordPress comes with fantastic tools that make creating, publishing, and managing huge amounts of content a breeze.
You don't need to have any coding or design experience and you can generally find user-friendly plugins to add any functionality you want to your site, such as:
Google Analytics or MonsterInsights to analyze your traffic patterns and visitor interactions.
Plugins to add reviews, pricing tables, ad space, and other visual elements to your website.
What's more, you can get an out-of-the-box professional design for your website in the form of premium WordPress themes.
There are literally tens of thousands of WordPress themes to choose from, many of which cater specifically to various niche or affiliate sites.
You don't want to put so much time and money into your website that you never get off the ground or start with a massive deficit.
Step #5: Launch a Content Marketing Campaign
As mentioned, most affiliate marketers build their strategy around content marketing.
That's because content marketing provides the best opportunity to rank for search engines as well as to convince visitors to buy affiliate products or services.
We could create an entire guide just on content writing and marketing, so we won't cover everything here.
However, the most important thing you should know is that "content is king" when it comes to content marketing. Google itself has confirmed as much over and over again.
So, high-quality content will be the foundation of your whole marketing strategy. That means content that is unique, well-written, accurate, and relevant.
Ticking all these boxes is key to not only attracting visitors but to keeping them until they reach the end of the page.
The language you use and the way you present affiliate products will also play a leading role in whether you are able to convince readers to click a link or spend their hard-earned money.
Your content needs to be conversion-driven and compelling without coming across as pushy or overly "salesy."
Content marketing is an art, but also a science. You need to integrate various on-page SEO techniques into your content writing as well, such as:
Search-friendly URLs.
Search and keyword-optimized page titles, metadata, and headings.
Optimal keyword density and LSIs.
Also, you need to have a firm strategy when it comes to how what, and when you will publish content.
Google loves consistency, so you should create a publishing schedule and commit to churning out a certain amount of content on a regular basis.
Not to mention, creating content maps and planning to promote content on multiple channels.
Step #6: Build Internal and External Links
Often overlooked, links are incredibly important to the success of any website.
You need to have a healthy link profile in order to grow your organic traffic, improve your SERP rankings, and improve the user experience of your website.
Internal linking will help keep visitors on your website and guide them to relevant information.
While they do not directly impact your SEO rankings, they have indirect effects on metrics, such as session duration, pages viewed, internal CTRs, etc.
External links are also important for a number of reasons. Although not nearly as important as incoming links, Google still prefers websites that link to reliable sources and trusted domains.
It's also important that you rank to a variety of domains so that your link profile does not look suspicious, especially when it comes to promoted links from your website to others.
Of course, for an affiliate, external linking is more important because you will use these links to earn affiliate income.
So, you'll need to carefully think about how to effectively use these links throughout your content and CTAs in order to get the best results.
Internal or external broken links are bad because they interfere with website crawlers and lead to a bad user experience. Broken link building should be a regular part of your website's maintenance.
Last, but not least, we have backlinks or incoming links. If you want to create a high-traffic website, these are arguable the most important types of links.
Backlinks are one of the top 3 ranking factors according to Google. According to Backlinko, top pages on Google SERPs have 3.8x as many backlinks as the rest.
If high-authority domains link to your website, it also improves your domain's authority which is another ranking factor.
However, link-building is hard. In fact, 94% of pages never manage to get any backlinks at all. That's because it's a time-consuming activity that requires a certain level of know-how and experience.
For most website owners, it makes more sense to hire a professional link-building service that can guarantee results.
For example, services like Uprankly charge website owners for a specific number of backlinks.
They will then go and earn links through guest posting, email outreach, and other marketing campaigns.
As experts in the field, they are able to research and identify high-DA sites that are relevant to your niche and can provide valuable links.
---
Bonus Tip: Let Uprankly Do It for You! In This Section
So far, we've mentioned buying an existing niche site as well as building one from scratch.
However, there is another way that you can create your own income-generating niche site that brings the best of both worlds: hiring a niche site-building service like Uprankly.
When you work with us, you're also hiring our experienced niche site builders to develop and design your niche site as well as deliver ready-made content to start attracting visitors and making referrals.
Our DFY (done-for-you) services are designed to offer you a hands-off, turnkey solution to own your very own profitable niche site.
Our experienced marketers have spent their professional careers building successful websites in a variety of niches.
If you don't have any experience in this field, or simply don't have the time and energy to do it yourself, you can leverage our expertise for the best chance at success.
We'll design and build your website from scratch as well as optimize it for performance and SEO.
Your new niche site will launch with ready-made content to start growing your traffic and generate leads for your affiliate programs.
Of course, you can't expect long-term, sustainable results by just launching a site with a bunch of content and then waiting for the leads to roll in.
We also offer ongoing site maintenance and content marketing services to actively keep promoting your content on multiple channels and work to grow the reach of your online presence.
This includes continuously publishing new and relevant content to attract more visitors and keep Google happy.
A consistent and active publishing schedule will not only improve your chances of ranking higher in SERPs but also keep attracting new visitors.
At Uprankly, we see ourselves as not just another agency out to make a buck, but as a partner on your journey to success.
We love seeing new brands succeed online and relish in the process of building 4-figure, (and up) businesses from the ground up.
So, if you would like to launch your niche site venture without the stress that goes with it, you can contact Uprankly for a strategy call.
---
Conclusion
There is no guaranteed way to earn an income online. However, if you follow these 6 steps to build a successful niche site, it's as close as you can get.
With consistency, dedication, and proper planning, it's only a matter of time until you start to see results.
The internet is full of examples of individuals who have managed to become incredibly successful affiliate marketers using this strategy. And, there is no reason why you can't join them.