Goldenweb.net Founder Benjamin Golden: An Exclusive Interview
Benjamin Golden, the founder of GoldenWeb, is a Shopify SEO expert who helps clients achieve high ROI by finding and exploiting quick-win opportunities. Ben combines his development skills and SEO knowledge to create effective solutions that boost organic traffic and conversions. Since 2017, he has been revolutionizing the online industry with his innovative and results-oriented approach.
In this exclusive interview, Ben reveals his story, vision, challenges, and insights on how he built Goldenweb.net from scratch, what are the key trends and opportunities in the online industry, and what are his future plans for his company and himself.
Read our exclusive interview with Benjamin Golden now!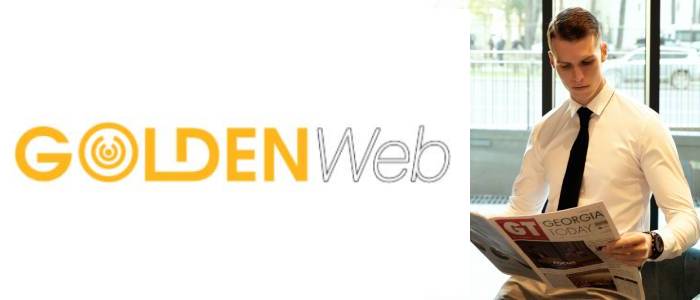 What follows is an interesting interview with the SEO Expert.
Q. We love getting to know our partners better so that our community can benefit from what our partners are offering and doing in the industry. To get started, can you give us a high-level overview of GoldenWeb and how it got started?
Ben: Happy to work with you guys, thanks for the feature!
GoldenWeb is an SEO agency specializing in scaling Shopify brands through organic traffic, by leveraging existing quick-win opportunities that the brands have available.
We got started back in 2017, initially as a web design agency, but quickly transitioned into SEO due to my personal interest and experience with SEO.
By combining the existing development experience with SEO knowledge, we were able to put together a system that allows us to not only find but also implements SEO quick-wins to our client's websites in order to quickly boost their organic traffic.
The reason why we mainly focus on Shopify SEO Services is that while doing market research, I simply couldn't find an SEO agency that was focused on quick wins and delivering high ROI for the clients fast.
As a business owner, I understand the importance of investing in order to grow your business and get a high ROI, and SEO oftentimes isn't easy to invest in, as there are no guaranteed results and it often takes 8-12 months to see things turn around.
By understanding this and building our entire business around delivering as high ROI as possible for our clients, as fast as possible, we positioned ourselves as unique and different than our competitors.
This same process allowed us to generate over $25M in extra organic revenue for our clients in the past 2 years alone.
Q. That's awesome! Can you dive a bit more into how you provide SEO services to your clients? I'm sure our audience would love to know exactly what problems you could solve for them.
Ben: Sure! In the past few years, we worked with over a hundred different Shopify clients and discovered 3 main problems/reasons why Shopify brands are struggling to grow their organic traffic.
These 4 main reasons include:
Poor Technical SEO
Most Shopify brands focus on their store looking nice on the front end, but they never focus on the back end.
On average, a typical Shopify store we work with has at least 120-130 different errors in the theme code.
These errors not only prevent your site from ranking well in Google, but they also negatively impact user experience and conversion rates.
Wrong SEO Partner
As much as it hurts me to say, there are many SEO agencies out there that are clearly in the wrong business, and they end up paying for it.
According to our research, more than 50% of our clients have had a negative experience with an SEO agency prior to working with us.
The main reason for this is that most eCom businesses don't do the necessary due diligence when bringing on an SEO partner or verifying their past results & case studies.
No Keyword Research
Last but not least, the third main reason for poor SEO results is the fact that the vast majority of Shopify brands skip the most important part of SEO itself.
Keyword research
We have Shopify brands that come to us time and time again, with extremely poor results, even though they've been investing in content and links for years.
To answer your question – what problems do we solve for them?
We essentially solve every single part of the problem, A-Z.
The main service that we provide is done for you SEO, where you simply provide us with your audience profile, your best-selling products, and competitors and we handle everything else for you.
After you provide us with the necessary information, we'll take your Shopify brand through 3 different phases and start generating results for you, month after month within the first 90 days.
Q. Jumping off of that…if there was one problem you'd say that GoldenWeb solves best for your clients, what would it be? Why?
Ben: We set clear expectations and follow a proven process.
The truth is most business owners are simply overwhelmed.
They are working on a lot of things all at once, and the last thing they have time for is figuring out which of the 10,000 SEO strategies out there is worth pursuing.
We eliminate the guesswork, set a clear path and roadmap for you, and then also execute everything. There's a minimal time investment required from your end, as we handle everything from A-Z in-house.
Q. As the company continues to grow over the next year, what are your plans for expansion? Any new products or offerings or enhancements to your current products?
Ben: We often get asked why we don't expand into other services such as web design, email marketing, and paid ads.
The truth is we don't want to be a jack of all trades. We want to be the best at what we do, and with the years of SEO experience we already have, that's what we're betting on and plan on becoming the best at.
Our main focus right now is on further optimization of our processes and strategies, while building out the content & education side of our business as well, which also serves as our main marketing channel.
Q. What made you decide to get involved in SEO and marketing? What's your starting eCommerce story? From what we've found, a lot of business owners in the same space have fun stories of how they first started…
Ben: I got started online at 12 with YouTube. I was very interested in smartphones and technology, so I started reviewing everything we had around the house.
By the time I was 14, I was sponsored by every single telecom company in the country who sent me new smartphones every week to review.
I think I was around 16 when I decided I want a website in addition to my YouTube channel, so I Googled how to create a website.
Shortly after that, the word got out that I created my own website, and other local business owners started reaching out to me asking if I could create a website.
Most of them wanted a website in order to get more leads so that naturally lead me into Google Ads and later on in SEO, because why would you pay for traffic if you can get it for free, right?
Q. Love it! Talking more about the eCommerce industry, where do you see it going in the next 1-2 years? Any unique predictions that you could share?
Ben: I'm extremely bullish on eCommerce of course, the industry is going to continue growing rapidly and I'm especially excited to see how AI will impact the eCom industry as well.
Q. Giving you an open mic for a minute, what is something you'd want the EcomBalance audience to hear?
Ben: Tough one because there are so many useful nuggets I could share, but if I could pick just one, I'd say that as a business owner, your number one priority should be finding high ROI activities.
Your main job as a CEO/business owner is to find every single opportunity that you can leverage and invest in, to get a high ROI. One of those is our SEO service (shameless plug)
Q. As we close this out, I just have one more question. Where is the best place to find and follow you and the company online? Also, if you have one, is there any special offer that you'll be offering to the community today?
Ben: Facebook, LinkedIn, and Twitter are the best places to connect with me, I'll link those below.
In addition, I also run and manage the Shopify SEO and CRO Facebook group in case you're interested in joining.
Last but not least, if you're a Shopify brand and you're looking to scale your organic revenue through our SEO quick-wins, I'd invite you to book a free mini-audit on our website

(no commitment required, worst case scenario, you'll end up with a free list of high ROI activities to implement in your business)
---
In summary, Benjamin Golden has come a long way since his early days in the world of technology and online presence, evolving into a leader in the SEO industry.
His dedication to high ROI and quick-win solutions has enabled GoldenWeb to deliver impressive results for Shopify clients and stand out among competitors.
GoldenWeb's unique approach, rooted in Benjamin's personal experience, showcases the power of passion, knowledge, and dedication in achieving success in the eCommerce industry.
Where you can find me…
Website: https://goldenweb.net/
Linkedin: https://www.linkedin.com/in/bengoldenweb/
Facebook: https://www.facebook.com/GoldenWebServices/